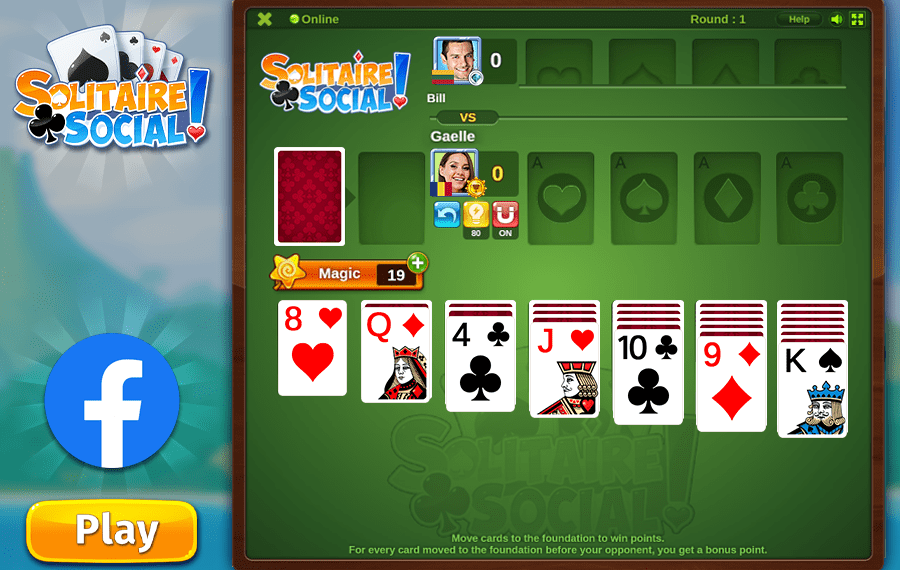 Play Facebook Solitaire
When Microsoft introduced Solitaire to the digital world in the 1990s via PCs, few people knew the vast impact the card game would have on today's world. The game has gained immense popularity online on tablets and iPads, as well as phones and laptops. Solitaire is one of the most engaging games on Facebook, with thousands of people playing daily.
There are many reasons Solitaire is a well-known game on Facebook. For instance, unlike many online sites, Facebook is a safe terrain to navigate without fear. The platform comes with built-in security that helps to protect you and your data while playing. In the same vein, you have easy access to data scores. This feature allows you to compare your scores with other gamers on Facebook for challenges or motivation.
Given its wide acceptance, there is an extensive selection of solitaire games on Facebook. They include Klondike, Spider, FreeCell, Pyramid, and TriPeaks. However, the best Solitaire game you can play on Facebook is Solitaire Social. After all, it is specially designed to bring out the winner in you. Battle Solitaire Social on Facebook introduces you to a tournament of eight players and three levels. Each game pairs you with another Solitaire player on the platform. After three consecutive wins, you are declared the tournament winner. Why not get started today?
Speed and special boosters are some of the unique features that Solitaire Social offers. Speed is vital because you receive extra points for every card you send to the stack before the other player. You also have boosters like "shuffles," "freezer," "joker," and "magic" that ensure the game goes favorably for you. You should try them out now. Thankfully you don't have to wait for the game to toss you boosters. You can also purchase them from the store.
There is more! Solitaire Social offers variety, so you can't get bored. After five wins, your garden unlocks, and you can beautify it with the gifts you receive in different tournaments. Aside from tournaments, the "Round the World" mode takes you from country to country as you keep winning. You also receive gifted boosters and artifacts in these countries, which you can use anytime. Check it out here.
Finally, you've got a special tournament known as Knockout. Solitaire Knockout on Facebook starts with four players. The player with the lowest points gets knocked out each round until the winner emerges. If that's you, you are rewarded with gifts and special items for winning.
How to Play Solitaire on Facebook
It's time you played Solitaire on Facebook already. Why not check out the instructions on how to start? You will be surprised by how simple it is.
Log in to your Facebook account: Getting a Facebook account is relatively straightforward if you don't have one yet. But if you do, log in now.
Start playing Solitaire Social live on Facebook
Join our Facebook Community. Connect with other players like you! In the community, you can learn tricks and tips to help you, and you'll always have the short link to the Solitaire Social game.
Get it right. Facebook gaming center has a wide range of games, perfect for every gamer. However, the world of Solitaire Social on Facebook will bring out the winner in you. Try it out today!