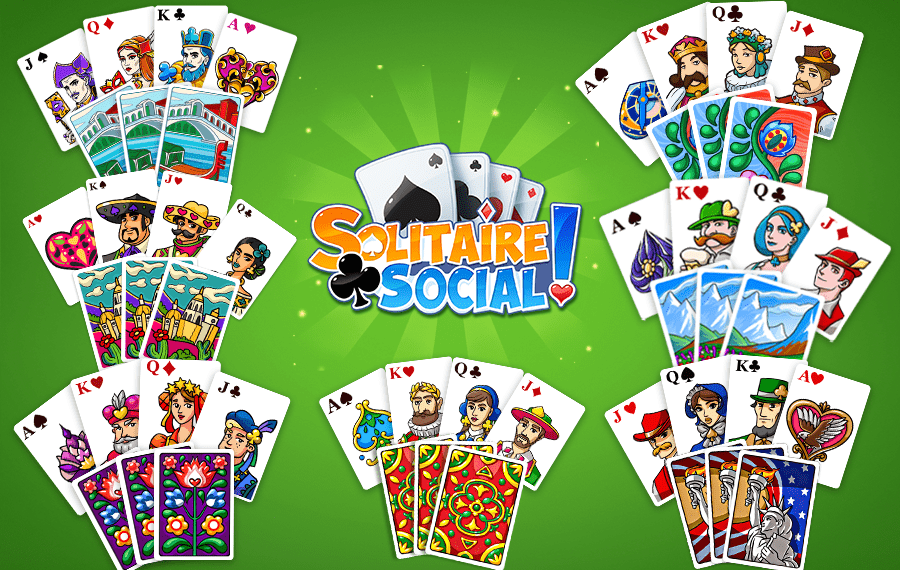 Make every game of solitaire your own with Solitaire Social's unique card decks. There are over two dozen decks to choose from. And each is beautifully illustrated and based on a unifying theme. Collect them all, or focus on your favorites.
The Land of Oz Deck
The Land of Oz deck is inspired by L. Frank Baum's masterpiece The Wonderful Wizard of Oz. Each card in the deck brings Baum's iconic figures to life with gorgeous illustrations that render each with traditional playing card flare. Recreate the wonder of Oz with each game.
The Wonderland Deck
 Fall down the rabbit hole with the exquisite Wonderland Deck, featuring the characters of Lewis Carroll's classics Alice's Adventures in Wonderland and Through the Looking Glass and What Alice Found There. In this deck, you'll meet a cast of unusual characters with each flip. And you'll even get the Cheshire Cat grinning up at you from the back of each card.
The Melodia Deck
If you are a music lover, the Melodia Deck is not to be missed. Its face cards feature musical icons of the past. And, of course, Elvis is the king. So, toss on some classic rock and roll while you play with this deck of musical royalty.
The Tropical Deck
Are you looking to add a little island flair to your game? Then, the Tropical Deck is the deck for you. This deck is backed with beautiful hibiscus flowers and features classic playing card art rejuvenated with island vacation vibes. Pair this deck with a coconut cocktail for an authentic island experience.
Decks of the World
This is an assortment of decks rather than a single deck. Solitaire Social features over a dozen collectible decks honoring the nations of the world. Earn your country's deck or collect the whole set. With decks celebrating countries like India, Norway, Germany, France, and the United States, you will surely find the deck for you. Keep an eye out for these. They're only available during special events.
As you play more, your collection of decks will grow. You can find a day-to-day favorite or change decks with your mood. Switching to your latest deck is easy in Solitaire Social. Just follow these simple steps: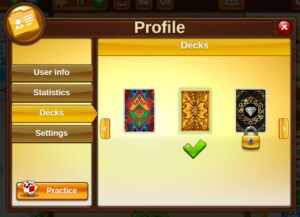 Log in to your Solitaire Social account online.
Next, click the cog in the upper right corner of your screen. This opens your player settings window.
In this new window, select Decks from the menu on the left. This shows you all the available decks.
Select a deck and start playing!
How To Get a New Deck
In the Decks menu, there are dozens of decks to choose from. But not all decks may be available right away. A lock icon indicates unavailable decks. There are 2 ways to unlock a deck: by completing collections or participating in special events.
Collections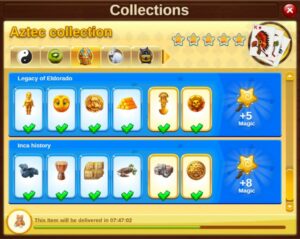 One way to earn new decks is by completing collections. Each collection consists of several mini-sets. And each mini-set is a group of 6 beautifully rendered items. The first 4 items are earned during gameplay by sending all your kings to their foundations. You must find each of these 4 items multiple times to complete it in the mini-set.
The last 2 items of the mini-set can't be found under kings. Instead, you receive them either by asking for them from a friend or by requesting they are sent to you by special delivery.
View your collection progress by clicking the collections icon in the center of the options bar on your screen. This pulls up all the mini-sets you have to complete and shows your progress for each.
Clicking an item tells you how to earn that item and allows you to request it by special delivery. Remember you can only order 1 item by special delivery each day.
Find all the items in the mini-sets to complete the collection. Once a collection is complete, you are rewarded with a special reward and that collection's unique deck.
Special Events
This is where it gets really fun! Every so often, Solitaire Social runs special events that allow players to participate in themed challenges for exciting prizes.
Playing during each event allows you to find hidden ruby keys. You find these keys hidden under the kings in your games. And each is used to open prize chests. Some of these chests contain cards you can assemble into a new deck. Collect all 20 cards, and you unlock a new themed deck!
Keep an eye out for these special events. Unfortunately, they only run for a limited time, and then they are gone.
30th day prize
For those players who logged into the game for 30 days in a row Solitaire Social prepared a special prize – full card deck with gorgeous design!
Instant Gratification
So, you've found a deck you love and can't wait to start playing with it. What do you do? Well, if it's a deck you earn by completing a collection, you click the green buy now button in the right corner of your collections screen. That will complete your collection instantly and give you access to the associated deck.
Decks earned through special events aren't available for instant purchase. But you can still achieve them faster by purchasing bundles of ruby keys from the item shop. These keys work just like the ones you find during gameplay. They open prize chests and reward you with what is inside. Sometimes that will be cards, and other times it will be other rewards. So be prepared to open more than the 20 chests you'll need to collect all the deck cards. This is also a perfect way to score a deck if time is running out on the special event.
Start Collecting Decks
Earning decks is no small accomplishment. It can take time and patience to earn them all. Some you'll achieve early on, and others you'll have to master Solitaire Social to collect. But that's all part of the fun!
Don't wait to start your collection. Jump on to Solitaire Social and start earning your new decks today!