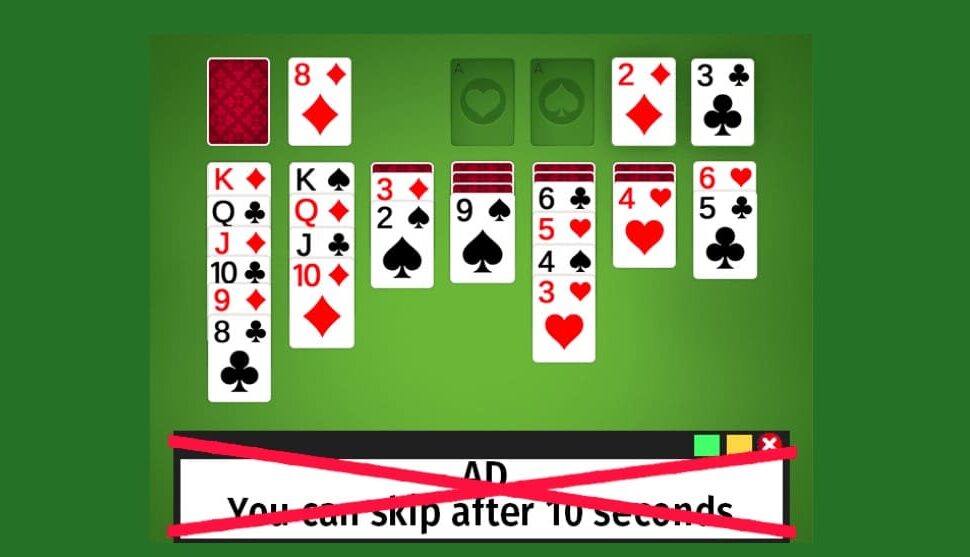 There are plenty of great online games to play, and many of them are completely free of charge. One of the example is the Spider Solitaire above, which is also available here. These games provide you with hours of entertainment without you ever having to spend any money. You usually have the option to pay for premium features, but there's no obligation to do so. This sounds great, right?
Unfortunately, things have changed. While these games used to generate money off of optional purchases, game developers are now hungry for that ad revenue. This is why you're seeing more and more advertisements popping up in the newest free games. It's annoying, intrusive, and it can completely derail a fantastic gaming experience.
This is why Solitaire Social is so proud to be completely ad-free. Free online solitaire no ads! It may sound too good to be true, but it's not! This is a fun, free-to-play PVP twist on Klondike Solitaire without any advertisements. That means that when you're on a roll, knocking out opponent after opponent, you never have to worry about an annoying ad popping up and destroying your momentum.
This also means that there are no optional ads, either. A popular tactic used in a lot of modern games is to allow the player to watch an ad in exchange for in-game bonuses, but with Solitaire Social, nothing is hidden behind any advertisements.
That doesn't mean there aren't bonuses! There are plenty of fun things to win to help you be the best and all you have to do to unlock them is keep winning games. Beating opponents will let you unlock chests containing coins and power-ups, while climbing the leaderboards will unlock certain prizes at certain milestones. Even better, you don't need to win to earn points. While you definitely earn more points for winning, even if you lose, you'll still get points for the cards that you played.
Like I said, it might sound too good to be true, but it's very real! Play online with addictive PVP gameplay, bonus game modes, leaderboard rankings, and no advertisements in sight! Free hard solitaire no ads!
How is it possible?
So how do we offer free solitaire without ads? The answer is in-game purchases, otherwise known as microtransactions. The entire game is free to play, but players always have the option of purchasing additional coins, power-ups, and other items to help them progress faster. This isn't like so-called "pay to win" games, either. Those who choose to spend their money don't have any advantage over players who don't spend anything. It's just a way for players to get even more out of the game. Every single purchase is completely optional.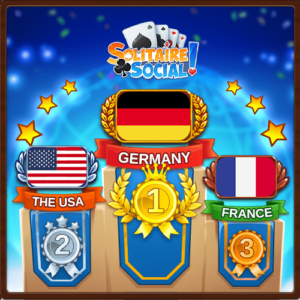 Think of spending money as a shortcut. You don't need to take shortcuts, but if you're loving the game that much and you want to tear up the leaderboards even faster, you can throw down a few dollars to pick up some bonus items. For example, magic wands help you out by producing hidden cards that can get you out of sticky situations. If you run out of wands, there's no need to worry, as they recharge over time. However, if you're just having too much fun and can't stand to wait, you're free to buy a refill in the Solitaire Shop.
We want all of our players to know that they don't have to spend a cent on the game if they don't feel like it. Head over to the Solitaire Shop page right now to see what's available for purchase. You'll see that this is completely legit, ad free solitaire with no pressure to purchase anything.
Aside from coins and wands, you can also buy bundles, which provide you with a whole heap of bonuses to really help you up your game. There's a variety of packages to purchase at all different prices, but whichever one you decide to go with, you'll be getting an awesome deal.
Finally, there are our special offers, which will get you all sorts of cool bonuses for a reasonable price. Such promotions are perfect for players who prefer to make a really good deal on a special occasions. The seasonal promo packages offers great rewards at a fantastic value.
No Ads, All Fun
Is a game really free if it's full of advertisements? While it might not cost you any money, if you're having to sit through ad after ad, that's going to take up a lot of your time. Your time is more valuable than money, so in that sense, it's not free at all.
Any way you look at it, Social Solitaire is, simply put, free online solitaire no ads. You don't have to make any purchases and you'll never, ever have to sit through another annoying advertisement. Even the free games that offer "optional" ads to sit through are taking advantage of you. While they say you don't have to actually watch any of the ads, a lot of the game's content is only available if you unlock it by sitting through advertisements. So, are the ads really optional at that point?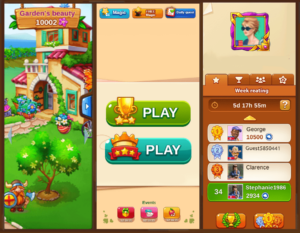 If you play Social Solitaire, you'll never be put in that position. When we say solitaire without ads, we mean exactly that. We understand that advertisements serve a purpose. Developers need to make money for all their hard work, after all. Sometimes, though, you just want to have some fun without being pulled out of the experience every few minutes. That's what you'll get with Social Solitaire. You'll be able to dive in and kick butt without having to constantly pump the brakes and sit through advertisements. Most mobile ads run roughly 30 seconds, which can really add up. That's a lot of time spent not playing the game!
Frequently Asked Questions
Are there any free Solitaire games without Ads?
What is the best free Solitaire?
There is no doubt that the answer is Solitaire Social! If you think otherwise, please leave a comment with your suggestions on how to improve our game.
Can you play Solitaire without downloading?
Yes. You don't need to download Solitaire Social in order to play it. It's available via any browser or Facebook. Choose your way to play. If you want to read more about playing solitaire without downloading, read this.