About
Solitaire Golden Prairies
Solitaire Golden Prairies Review
Nature lovers will surely be thrilled by this free solitaire app from Kosmos Games. Take charge of a farm while playing your favorite solitaire games, including tripeaks, pyramid and more besides.
Watch your crops grow as you progress through the game, leading to ever more rewarding harvests. Collect coins, stars and bucks, all of which can be used to acquire tools to help you develop your land.
Are you ready to learn more about Solitaire Golden Prairies, including the game's rules, bonuses and features? Then let's get to work!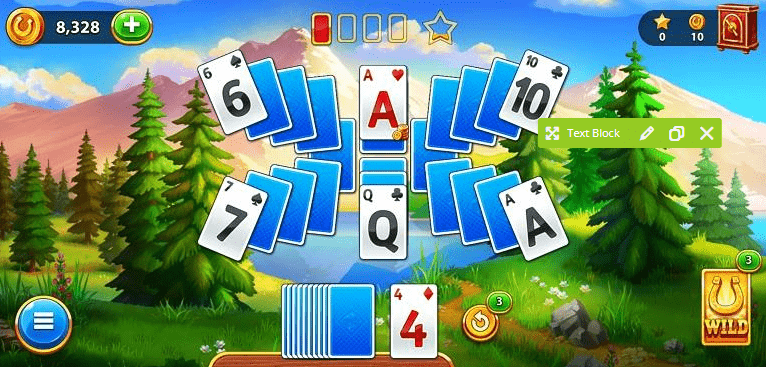 How to Play Solitaire Golden Prairies
Farming is the theme of this free solitaire game app. You start out with just a small plot but as you progress, you'll acquire more land for different crops and animals. In order to cultivate your farmland, you must play different types of solitaire and collect stars.
It isn't just a case of playing a bog standard tripeaks solitaire online game. There are many interesting game types packed into Solitaire Golden Prairies. You'll see all kinds of innovative layouts that require you to solve puzzles as you attempt to clear cards from the game board.
Look out for the cards which flip every turn, for instance. These will either increase or decrease in value, requiring you to think several moves ahead. Other cards contain fruits or vegetables which must first be harvested in order to unlock other cards. Solitaire Golden Prairies is certainly fun, but it also keeps you on your toes.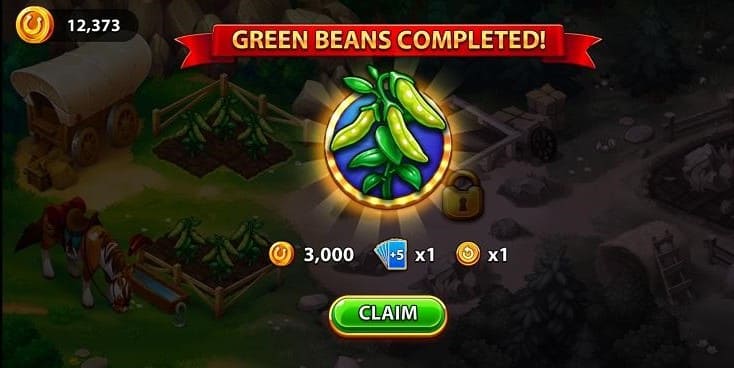 Solitaire Golden Prairies Rewards
There are three main types of currency in Solitaire Golden Prairies: Coins, Bucks and Stars. You can acquire all three simply by playing games of solitaire.
Coins
These are the main in-game currency, which you'll use to gain access to new games of solitaire. When you win a round by clearing all of the cards, you'll receive more coins as a prize. The exact amount depends on whether you chose to bet x1, x2 or x3.
If you lose a game, you'll receive a small number of coins as a consolation prize.
Bucks
When playing Solitaire Golden Prairies, you'll notice that some cards also feature an image of a pile of cash. If you are able to clear these cards, they'll add Bucks to your end of game rewards.
Bucks are different to coins. You'll need these to enter slots tournaments, which we'll talk about later.
Stars
If you make a combo of five or more cards when playing solitaire, stars will be added to your rewards. Upon completion of the game, these stars serve two purposes.
First, they contribute towards the progress with planting your next set of crops. But they also allow you to play the Lucky Spin bonus game.
Lucky Spin
Every time you collect 20 stars, you'll earn one free spin on the lucky wheel. There are lots of prizes to be won, including different amounts of coins, Free Rounds, Wild Cards and an automatic harvest.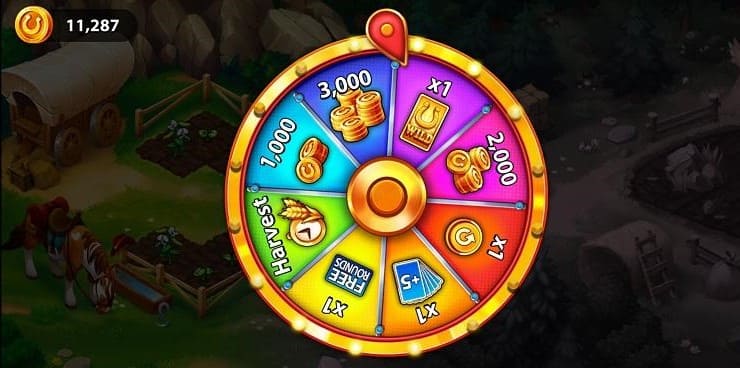 Harvest
Every hour, you'll be able to harvest the goods produced on your farm. This brings rewards in the form of coins, which are required in order to keep playing Solitaire Golden Prairies.
Without coins, you cannot tackle new games and without playing games, you cannot plant more crops. Remember, the more you sow, the more you grow!
Bet Size
Before each game of solitaire, you must select your bet size. You can play the standard setting of x1 and receive ordinary rewards for winning games. But you may also choose to play for x2 or x3, leading to greater returns when successful.
Of course, the flip side is that you must also pay more coins in order to play. So if you lose, your bank will be depleted at a much faster rate. It's up to you whether or not to gamble for bigger prizes!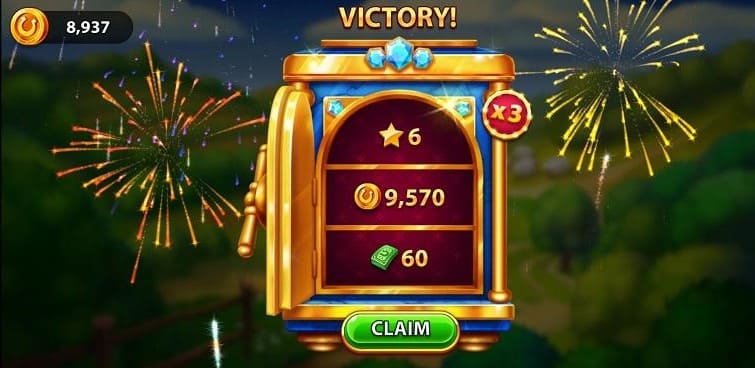 Gems
In addition to the above rewards, it's also possible from time to time to acquire gems. These are not normally present in the game, only during special tournament periods.
They work in much the same way as bucks. Clearing selected cards earns you gems and the more you collect, the higher up the leaderboard you'll climb. Prizes await the most successful gem hunters!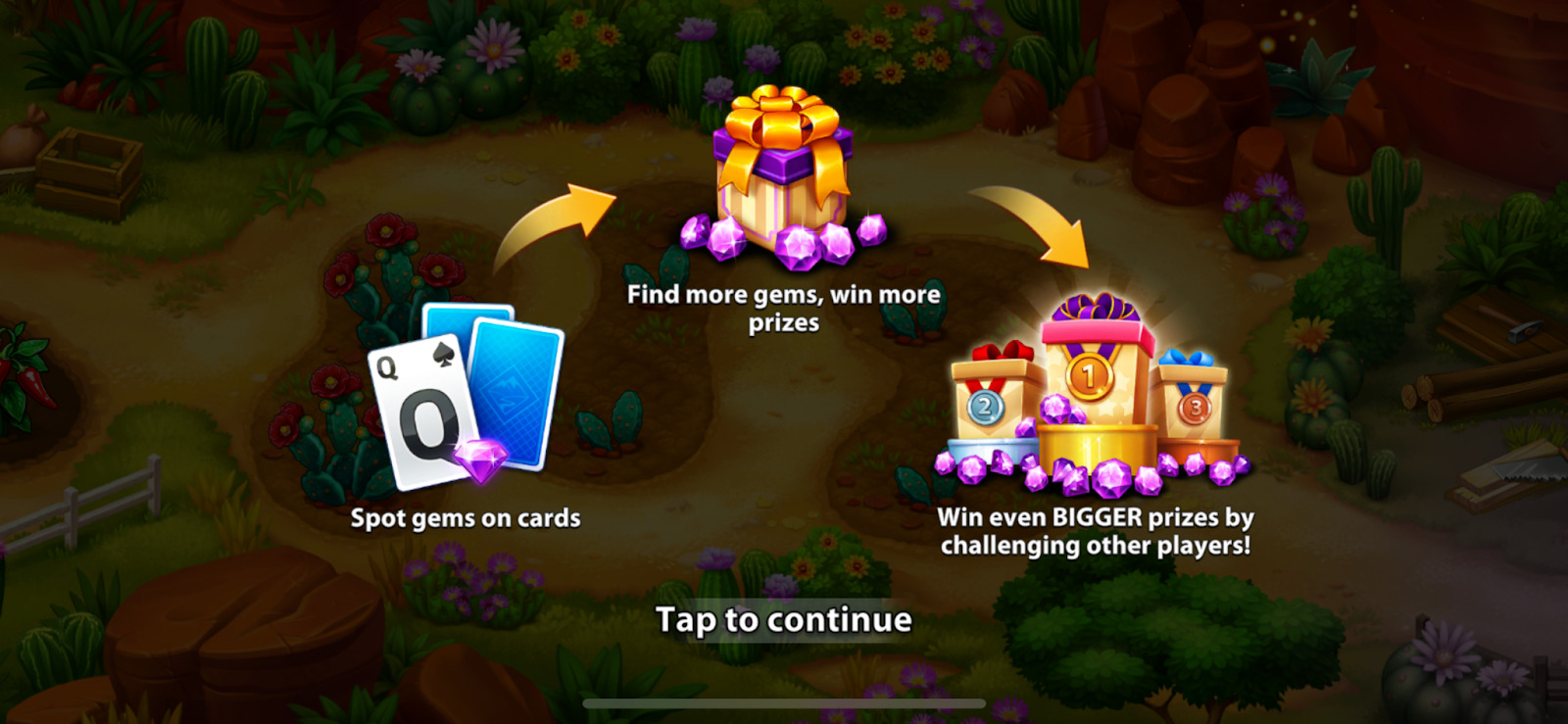 Bonus Games
Speaking of bonuses, there are several daily and hourly rewards to be gained in this free solitaire game app. Let's take a look at them now.
Adventure box with the Missions
In the Missions section you can see a list of quests that the game offers the player to complete. There are different types of Missions:
collect a certain number of stars
play cards of specific color or suit
complete rounds.
The player receives points for completing each quest. Participants who collect a certain number of points earn a valuable prize.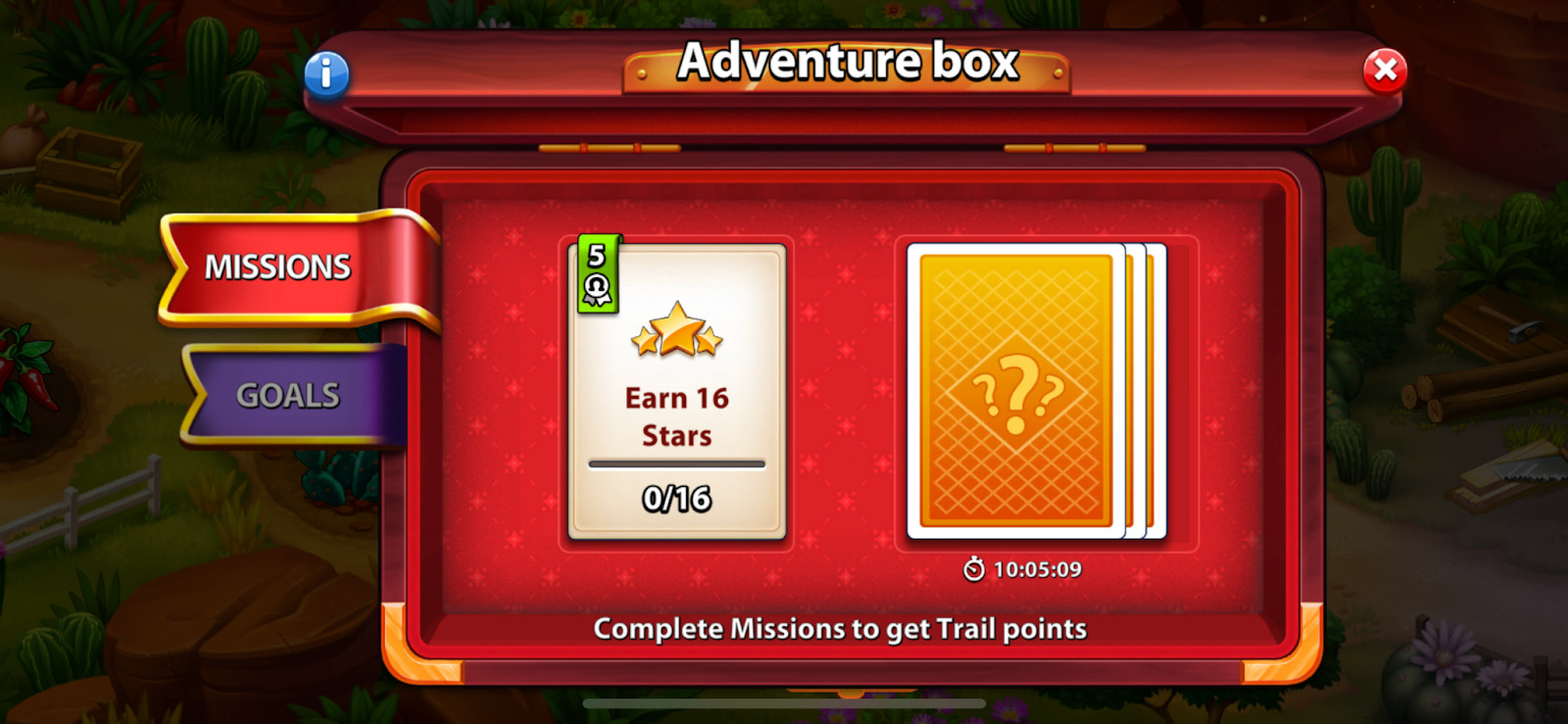 For each completed mission the player receives a certain number of points. Points are needed to achieve goals. For each of them a valuable prize is awarded. Especially if you have purchased a Golden Ticket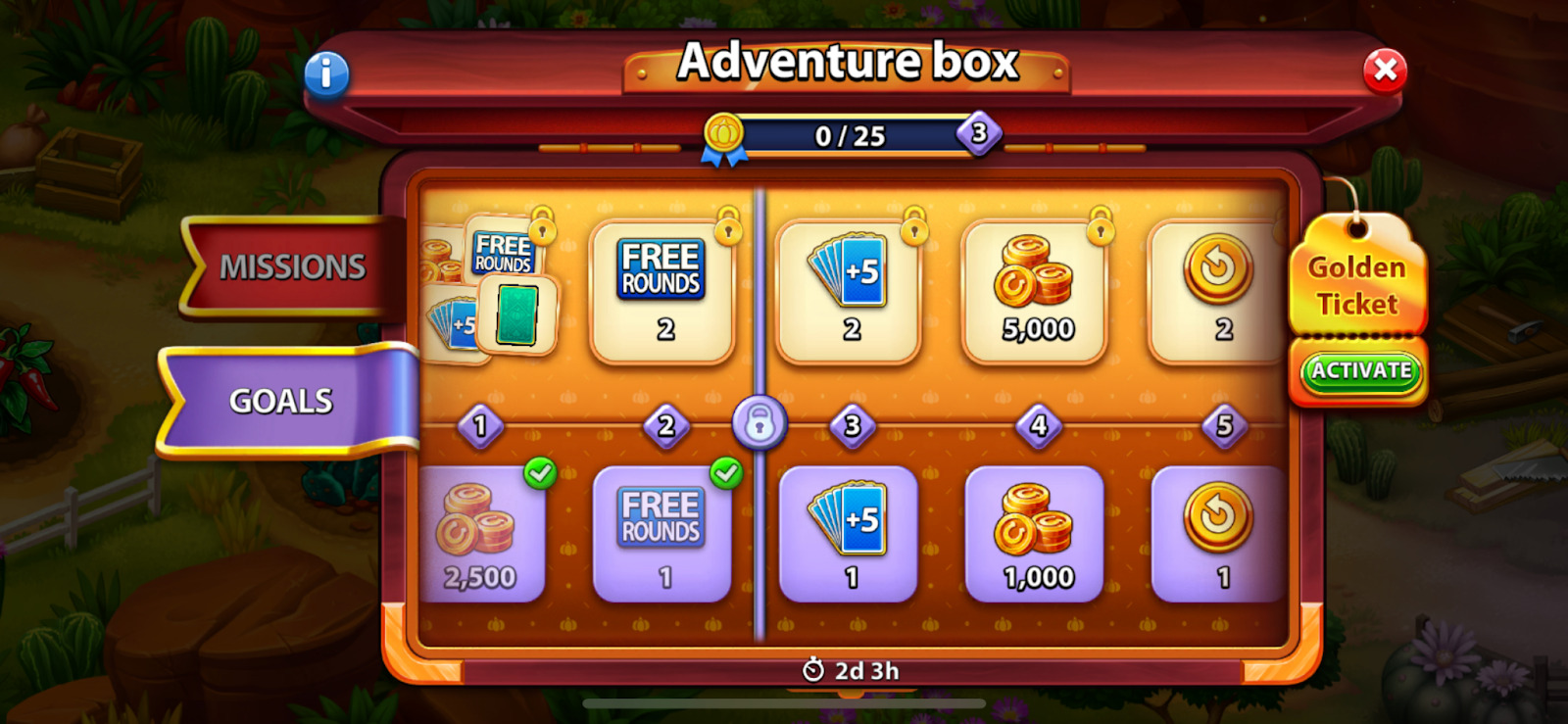 Daily Bonus
Once a day, you'll receive a piece of a jigsaw puzzle. For every consecutive day you claim a piece, you'll receive greater rewards. Once the puzzle is complete, you'll win a prize. But if you fail to login every day, you'll need to start again from the beginning.

Treasure Chests
From time to time, you'll notice a locked chest above the play button. You'll then have the opportunity to play for a key in addition to the usual rewards. If you're successful, you can use this to open the chest and pick a mystery prize.
Other Features
In addition to the various bonuses in Solitaire Golden Prairies, there are many other features built into the game too.
Coin Shop
Here you can buy useful tools to help you progress, including Undo tokens, WIld Cards and even Free Rounds. There are a lot of valuable Pack offers to make your game experience more comfortable. You'll need to spend real money in order to buy these in-game rewards.
Piggy Bank
As you clear the solitaire levels, you'll collect bonus coins which are stored inside your piggy bank. You cannot access these unless you pay a real money fee to break open the piggy bank.
Spin and Win
This is a daily slots tournament side game. Spend your bucks on the slot machine and win chips. The more you acquire, the higher up the leaderboard you progress. Whoever finishes highest will earn the top reward, but consolation prizes are also paid out.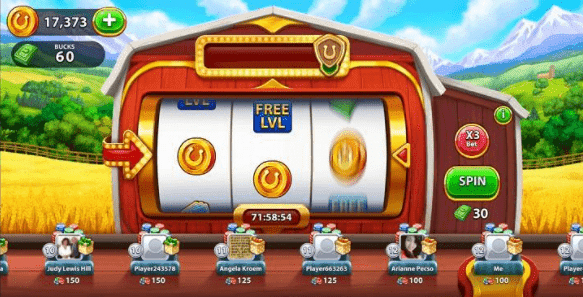 Play Solitaire Golden Prairies Today
If you like the sound of this free solitaire game app, it couldn't be easier to start playing. Download Solitaire Golden Prairies now for your Android or iOS device and get to work on your harvest.
If you love the game, please take the time to leave a review. Your feedback is appreciated as it helps us to develop better features and new titles for you to enjoy.