Solitaire Social spells and buttons
Here we have gathered for you instructions on how to use the main elements of the playing field. In Solitaire Social you'll find some very useful tools for always winning a solitaire game. Just click any element to read how it works and discover the inner game mechanics.
An explanation of how spells work and how to get them can be found on your game panel. Also you can go straight to purchase through these menu. Don't forget to play everyday to grab spells and coins in a daily gifts!
Solitaire Social Spells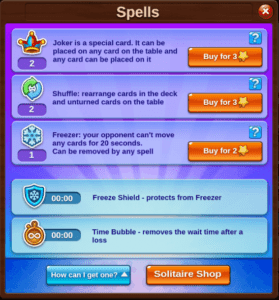 How to get Spells?