If you like to play Solitaire, try out Freecell or Spider Solitaire! You may play online solitaire free no download above to remember the rules of the game. In case you are looking for ad free solitaire game that will really take you away – choose Solitaire Social.
Solitaire Social is no download free game that will surprise you
Of course, there are many free solitaire with no ads and no download versions available on the Internet. But. As experienced solitaire fans, we understand that Solitaire Social is one of the best solitaire products. And it is not because we work here. So give us some time, and we will prove why you should start playing Solitaire Social — free no download solitaire opened in a browser and Facebook.
Come with us, we are going to review a free online and no download needed game named Solitaire Social online. Namely, how to start playing, which features and bonuses it has, whether it offers tournaments, etc.
Solitaire online free no download types
There are many solitaires free download versions you met on the Internet. The most popular of them are:
Klondike: This form of no download Solitaire a deck of 52 cards on the tableau, and the player's objective is to arrange the cards in the correct order, starting with an Ace and ending with a King, on the foundation piles. It is the most common type.
Spider Solitaire: This card game uses two decks totaling 104 cards on the tableau, and the goal remains to arrange the cards in the foundation piles. It's one of the most difficult types.
FreeCell: In this free no download Solitaire, the tableau contains only face-up cards. All cards face up and there's no stockpile, unlike others where you mostly deal with face down cards. This is a relatively easy type.
Tripeaks: The objective is to move all the cards from the table to the waste pile while uncovering cards further up the peaks to play them
Pyramid: 52 cards are dealt in a pyramid shape. Your goal is to discard all cards into the waste pile and demolish the pyramid.
Reverse Staircase: A type of Solitaire where all the normal rules are reversed, so you arrange your cards on the foundation piles in descending order instead of ascending order.
By the way, Solitaire Social is based on the Klondike type. You don't need to register to start playing Solitaire Social and have a great gaming experience, but it's possible to create an account or sign up through your Facebook or Google ID.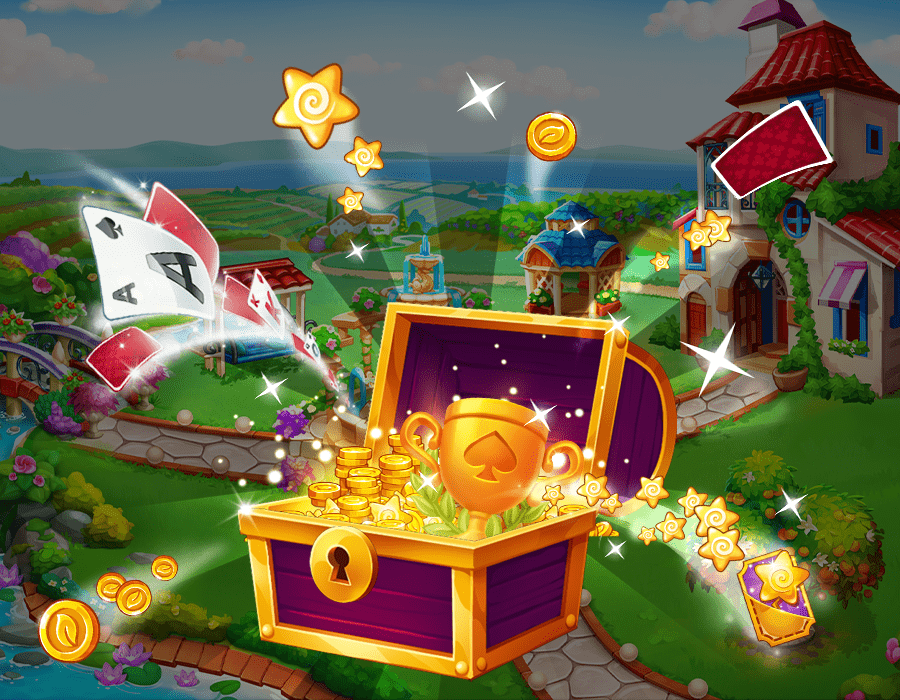 Which Version Of No-Download Solitaire Is the Best?
There's no single "best" version, but Klondike is the most played type worldwide. This version is very easy to grasp, and the rules are straightforward. The player needs to move cards to the foundation piles in the desired order. It is the best version for beginners that need to get used to the basic rules before moving on to more complex versions with lower winning odds.
What Are the Benefits Of No-Download Solitaire
You don't need to download any desktop or mobile app that'll take up space on your device. You can launch the game from any web browser and close it when you're done. This method is more convenient than downloading bulky apps on your device.
Another benefit is that Solitaire is a patience game, so playing it helps you build this value. Patience games help you stay focused and have restraint.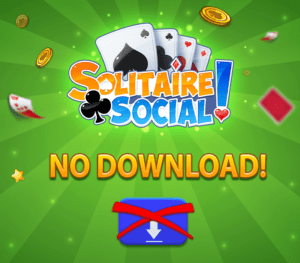 Solitaire Social Without Downloading: Benefits and Features
Solitaire Social allows you to compete with friends or random players from around the globe and prove who has the better skills. You can link your Facebook account to connect with your friends. It's enjoyable, and you can participate in tournaments to win prizes. You can also tend to a virtual garden while participating in tournaments. It is free to play.
This game supports different formats of tournaments, including Knockout, Duel, Around the World, etc. There are magic spells and power-ups to add fun, e.g., freezing your opponent's moves for a short period or retrieving a blocked card.
The Solitaire rules are simple. You'll be matched with another player, and you aim to finish arranging the cards in the foundation piles before them. The more you arrange the cards from the stock or tableau in the right order, the higher score you get. Once the timer is up, the player with the higher score wins.
Frequently Asked Questions About No-Download Solitaire
Where Can I Find A Free Solitaire Game Without Downloading?
You don't need to go far, as you've already found it. Solitaire Social is a free game that you can play without downloading any app on your device. It's fun and adds a competitive spirit to the game of Solitaire. You can play different versions of tournaments in Solitaire Social.
Can I Play Solitaire Without Downloading An App?
Yes, you can play free Solitaire without download. For instance, you can launch Solitaire Social on your web browser and close it when you're done. It works with different web browsers, including Mozilla Firefox, Google Chrome, Microsoft Edge, Safari, etc.
How Can I Play Online Solitaire?
There are many versions of Solitaire to play online. You can play different types, e.g., Klondike, Mahjong, Spider, Yukon, etc. You have to obey the game rules to be an effective player. Also, study the game mechanics to see what can give you a competitive edge. Setting up and playing online Solitaire isn't difficult.
What Happened To My Free Solitaire Game?
You can reach out to our team here if you experience any problems with playing Solitaire Social. The problem could come from several sources but be sure that our team will go the extra mile to investigate it and ensure you get your free, interesting game back. We always work hard to please our players.
How Do I Get My Old Solitaire Game Back?
Unfortunately, you can't do that. Microsoft has removed the popular pre-installed Solitaire from its Windows operating systems, and we can't reverse that decision. However, you can switch to Solitaire Social, which adds a competitive and social touch to make the game more interesting.
What Is the Best Free Online Solitaire Game?
Solitaire Social is the best online Solitaire game we recommend. It adds a social and competitive touch, so you can play alongside friends and family or random people across the globe. You can use magic spells and power-ups to disable opponents temporarily to get a competitive edge. These features make the game more fun than the typical Solitaire.