Play FreeCell Solitaire Online
Want to see what all the buzz is about? Play FreeCell solitaire online for free in the window below!
FreeCell Solitaire Rules
Never played FreeCell solitaire before? We'll cover everything you need to know. To play, you'll only need one standard deck of 52 playing cards.
Setting Up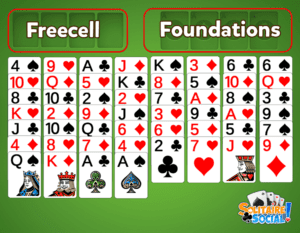 Remove the jokers from your deck and set them aside. You won't need them.
Shuffle your deck.
Next, you'll build your columns. Deal out 8 cards face up. These will become the base of the columns used to play the game.
Deal out the rest of the cards face up on each column in turn. Keep dealing until you've used all the cards. This will give you 4 columns of 7 cards and 4 of 6 cards. There should be no face down cards.
Leave room above the columns for your 4 suit piles and your 4 free cells. The suit piles are where you will play aces when they become available. The free cells are exactly that. You can use them to get up to 4 cards out of the way during game play. More on both later.
Your columns are now set up and you are ready to begin playing the game.
Gameplay
The goal of the FreeCell is to move all the cards of a suit on to the four suit piles. Each suit pile can only contain one suit. The cards must be placed in increasing order from ace to king.
To begin play, you play cards from one column to any other column in play. First select an open card. This is a card without any other cards on top of it. You may play any open card on top of another open card of a different suit color that is one card value higher than the card you are playing. For example, you could play a red 7 on top of a black 8. But you couldn't play a red 7 on top of a red eight or any color 6. Suit does not matter here.
Open aces can be played on the suit piles above the columns. The ace begins that suit pile. This allows you to play the next highest card of that suit on that suit pile. Make sure you won't need any card you play to the suit piles. Once a card is played there, it must stay.
If you have a tricky card that you can't seem to move, you can play it to one of the 4 free cells above the columns. Each free cell only holds one card at a time. Cards in free cells can be played back to the columns when a suitable open card arises. Cards in free cells can also be played directly to the suit piles if they are the next card in that pile's sequence.
[Img.5: Image of a stack of cards being moved from one column to another]
As you move cards between columns, you will form stacks of alternating colors in descending order. These stacks may be moved in part or as one depending on how many open free cells you have remaining.
If you have 4 empty free cells, you can move stacks of 5 or fewer cards.
If you have 3 empty free cells, you can move stacks of 4 or fewer cards.
If you have 2 empty free cells, you can move stacks of 3 or fewer cards.
If you have 1 empty free cell, you can move stacks of 2 cards.
And if you have no empty free cells, you can only move a single open card at a time.
Using the rules above, work your cards around the columns and free cells until all your cards are in their suit piles. Don't get discouraged if the game takes a little time to master. FreeCell has long been considered one of the hardest games of solitaire to will. However, almost 99% of FreeCell games are winnable!
FreeCell Card Game
FreeCell is a comparatively new game as card games go. The oldest known predecessor was a Scandinavian game called Napoleon in St. Helena that was played in the 1940s. This game was different from Napoleon at St. Helena which is still a popular variant of solitaire also known as Forty Thieves.
Around two decades later, a similar game called Eight Off was described in the June 1987 edition of Scientific American. This game was nearly identical to modern day FreeCell with one exception. It built stacks by suit, instead of alternating red and black. This variant still exists today. But it is known as Baker's Game after its creator, C. L. Baker.
Modern FreeCell solitaire was adapted from Baker's Game by Paul Alfille. In 1978, he also implemented the first computerized version of FreeCell. Using the Tutor programming language, he created a FreeCell game for the PLATO educational computer system.
However, Jim Horne is ultimately responsible for FreeCell's worldwide popularity. Horne created the first color version of the game for the Windows operating system. The game was included in a variety of Microsoft entertainment packs until it was ultimately added to Windows 95. Since that time, FreeCell has come standard on every version of Microsoft Windows.
Today, there are a dizzying array of online FreeCell solitaire options available. Many emulate the Windows version of the game as it has become the ruler by which standard FreeCell is measured. However, there are many variations of FreeCell available online. This makes it possible for anyone to find whatever version of the game they enjoy most.
What Else to Play if You Like FreeCell?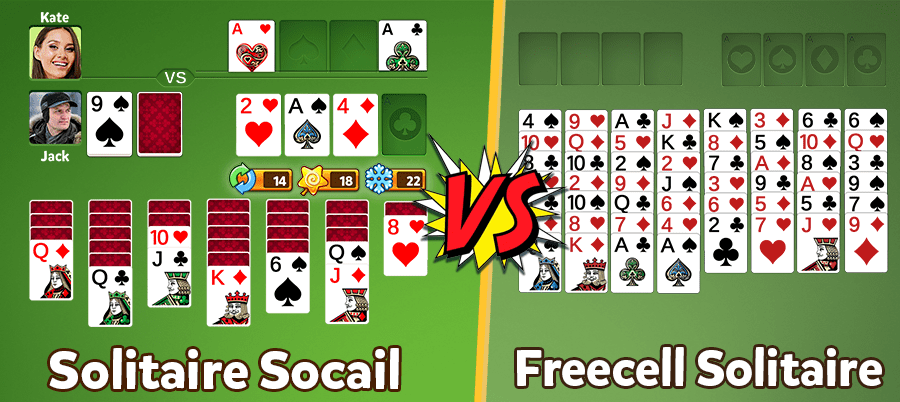 If you enjoy the strategy of FreeCell solitaire, you'll love Solitaire Social. Solitaire Social takes classic one-turn Klondike and shakes it up with a little competition. Use spells and magic power-ups to take your strategy to the next level while you pit your skills against other players from all over the world.
Solitaire Social is free to play online. Click here to start playing today!