What Is FreeCell Solitaire?
It is a well-known type of Solitaire. It uses the standard 52-card deck like other types of Solitaire. The main difference is that all cards face up at the beginning of the game, unlike other formats where most cards face down and a few face up. FreeCell was popularized by Microsoft pre-installing a digital version in its Windows operating systems in the 1990s.
Are All FreeCell Games Winnable?
All games are technically not winnable; there is always a card arrangement that's impossible to win. However, 99.99% of games are winnable, which makes them enjoyable to play. This type of Solitaire is famously known for having just a few deals that are not solvable, unlike others where the chances of winning are as low as 1 in 3.
Solitaire Social vs the Online FreeCell Solitaire
Solitaire Social is a Klondike (not a FreeCell) game you can play online for free. "Social" implies you can compete with your friends and other players to see who has the better skills. You can link your Facebook account and invite friends to play or get matched with random players around the globe. You can also participate in tournaments and prizes. The social aspect helps you build your skills and remain competitive, so you can launch it and start playing now.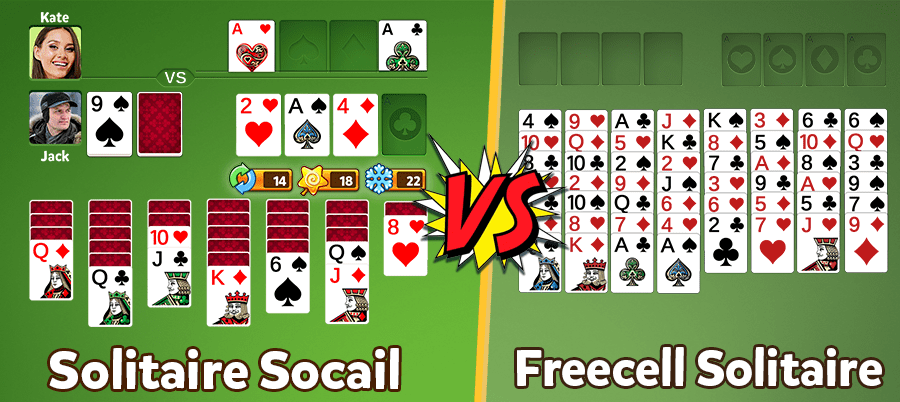 Solitaire Social is free to play online. Click here to start playing today!
Setting Up FreeCell Solitaire
Follow these steps to set it up:
Shuffle the 52 cards to ensure they mix well.
Deal seven cards in a row on the table, or tableau as it's called here. The eight cards form the basis of eight columns.
Deal seven cards in the first four columns and six cards each in the last four columns to the right. Remember that all cards face up in this type, and there are no cards left for a stockpile because all of them are placed on the tableau.
Create four columns above the tableau to serve as the foundation piles.
The tableau should look like the image below: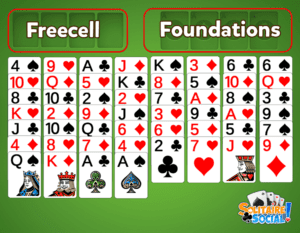 How To Play FreeCell
The player's objective is to arrange all cards in the four empty foundation piles in the correct sequence, starting with an Ace and ending with a King.
Solitaire strategies to pay attention to include
Move an Ace or King as soon as you get the opportunity.
Try creating an empty column as soon as you can.
Use the undo button to correct any mistake.
Do not move cards to the foundation piles too quickly because you may need them later.
Keep as many empty free cells as possible.
If all your free cells fill up, there's little chance to maneuver.
FreeCell Card Game
FreeCell is a relatively new card game. Its predecessor was Napoleon in St. Helena, a card game played in Scandinavia in the 1940s. Napoleon in St. Helena is known today as Forty Thieves.
The modern version was created in the 1970s by a computer programmer named Paul Alfille. His creation paved the way for FreeCell's popularity, which was cemented when Microsoft began pre-installing a digital version in its Windows operating system in 1995. Today, millions of people worldwide play it.
What Else To Play If You Like FreeCell
If you enjoy the strategy of FreeCell solitaire app without ads, you'll love Solitaire Social, which adds a social and competitive touch to make it more interesting. You can invite your friends or play with random people across the world. This game has spells and magic power-ups to make gameplay more fun. You can participate in global tournaments, win prizes, or tend to a virtual garden while playing it.
Solitaire Social also supports many other formats, such as Spider, Yukon, Mahjong, and Klondike, which is the most popular type.
FreeCell Solitaire — FAQs
Does FreeCell Benefit Your Brain Health?
It is an intuitive activity that requires strategy and critical thinking to succeed. Thus, you can consider it a brain exercise. A group of researchers at the Oregon Health & Science University (OHSU) determined that this game can help differentiate people with memory issues from cognitively healthy persons.
What's the Least Number of Moves Needed to Win at FreeCell?
You need at least 45 moves to win a game. Your number of moves could be much higher due to several factors, e.g., how the cards were dealt and the strategies you choose. Yet, expect to make at least 45 moves before winning a round. This figure implies that you shouldn't always be in a hurry to end a round; winning requires patience.
Why Should FreeCell Pique My Interest If I Haven't Played It Before? What Makes It Appealing?
It is a puzzle-like game that's interesting to play. It requires critical thinking and strategy, so helps you stay busy and keep your brain sharp. It is one of the easiest types of Solitaire, with a high winning chance, so you can use it to get used to the game and graduate towards more complex types.
How Many Cards Can You Move in Freecell?
The number of cards you can move at once in FreeCell depends on the number of free cells and empty tableau columns available. As a rule, the total number of cards you can move is "number of empty free cells + 1" for each empty tableau column doubling that number. So, the more free cells and empty tableau columns you have, the larger the stack of cards you can move.
Is There an Unwinnable FreeCell Game?
The vast majority of FreeCell games have a solution. Exceptions are rare, there are only eight unsolvable games within the first million deals in FreeCell.
What Is the Easiest FreeCell Game?
The "easiest" FreeCell game is subjective and can vary greatly based on a player's skill and experience. However, beginners might find games with fewer cards or stacks to be more manageable. For instance, the first game is often recommended for novices as it offers a good introduction to the strategies used in FreeCell.