We offer a completely new solution: our online solitaire, where experienced players will open a world of battles with like-minded people. And for those of our guests for whom "Solitaire" is something completely unfamiliar, we are ready to teach the basics of this incredibly popular solitaire game, as well as support on the way to the top of our ratings. All newcomers to Solitaire Social are greeted with a short tutorial to help get to grips with the basics of solitaire. Or read our article on Solitaire game rules.
It's simple from the beginning: we have a deck of playing cards, some of them open, some of them face down. Our goal is to move the entire deck to the top four slots. There the cards can only be stacked by seniority and suit. The main events of this solitaire take place below; the cards can be stacked on top of each other by seniority but alternating colors of suits. Putting such chains, we open new cards, which immediately go into action. Above left is the deck, which will also provide us with cards.
We have all known solitaire since the days of Windows 98, endlessly turning red for black and black for white, practicing combination skills.
We want to give you a new experience: the thing about Solitaire Social is that every game is a competition with another player. Our program automatically selects an opponent who starts a game with you simultaneously. The winner of the party is the one who solitaires the first! You get extra points for each card sent to the stack before your opponent! So, time is of the essence in Solitaire Social!
The tournament starts with eight players fighting like in a real championship, making their way through the tournament grid from one-fourth to the final. The winners converge in the second game, leaving two players, each with a chance to win the tournament. Simply put, to win a tournament, you have to be the best three times in a one-on-one bout.
The course of the game can be changed by special boosters, which you can get in different ways.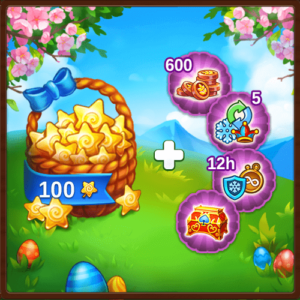 "Shuffle" shuffles the cards and completely changes the layout of your table.
Don't forget about "Joker," which can turn into any card
"Magic" booster pulls out one hidden useful card, which probably increases your chance of picking up the entire Solitaire.
Freezer will give you 20 extra seconds, during which your opponent can't make any new moves.
By the way, Magic is not only a booster but also a kind of in-game currency – you can use it to pay for all these beautiful boosters. After all, you can get them not only during the game but also in our store.
You can learn more about boosters, which will help you win here.
The more you win, the more the world of Solitaire Social opens up to you. After just five wins, you'll get your own garden, which you can improve with items dropped off from tournament to tournament.
If you find tournaments boring, you can try "Round the World": You play your solitaire and move around the world map. You'll start with England and, winning time after time, you'll find yourself in a variety of countries where you'll receive gifts, boosters and artifacts.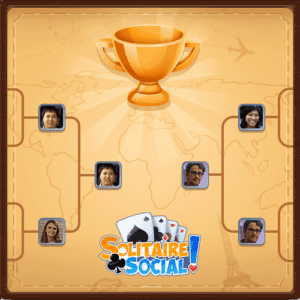 There's another special kind of tournament that's ominously called the Knockout. It's a real elimination game, with four players participating. They get the same card layout and try to win. The player with the fewest points in the round is eliminated. The second round is all ready for three players and so on until there is one Knockout winner left. For the victory, the participant receives a reward.
Special Events
From time to time, our players will participate in special thematic days, which will be accompanied by interesting tasks. Such days will bring incredible rewards to Solitaire Social participants. Follow the news and updates here.
Daily quests
But that's not all! "Solitaire Social" offers daily quests; by completing them, players will receive even more prizes to not only gain advantages in future tournaments but also to improve their garden. You'll earn bonus boosters for improving your location.
Pacing relentlessly up and down the leaderboards, battling it out against players from all over the world, teaming up (or even creating your own), all for the ultimate prize, and perhaps making this the most addictive browser game out there.
"Solitaire Social" is a place where you can not only invite your friends, but here you will find new virtual opponents with whom you will fight for the most incredible prizes. After all, every win you win is a step up to the top of the ratings.
If you click on the bar below the profile picture, you'll see the path to be taken. A beginner starts at the Bronze level, and every tournament won raises the status. For example, from the very beginning, a player needs to win 12 tournaments to get to the Silver level and get 8 boosters as a gift.
The game has the ability to create and team up in teams of up to 10 people and participate in a team tournament. Gather like-minded people and win in Solitaire Social! By the way, subscribe to our Facebook page to get acquainted with other fans of the game.
Don't forget the daily quests, regular gifts from the creators and unforgettable special events. Remember: the more you play, the more new and interesting things you meet on your way to the top of the rankings.
And by the way, very important information: "Solitaire Social" is absolutely free. Of course, you can buy boosters in the game store, but you can beat all your opponents without such tricks. Each successful game will not only give you some kind of bonus but also increase your skill. Soon you will be able to put on electronic blades of any opponent and in regular tournaments, and "Around the World," and "Knockout," and dozens of other tests that the creators of "Solitaire Social" prepare for you.
Kosmos Games – the developers of "Solitaire Social" – spend every day thinking about what else to surprise their players. New solitaire mechanics, seasonal events related to holidays and special calendar days are added regularly.
Try this exciting game, invite friends, and find new opponents.