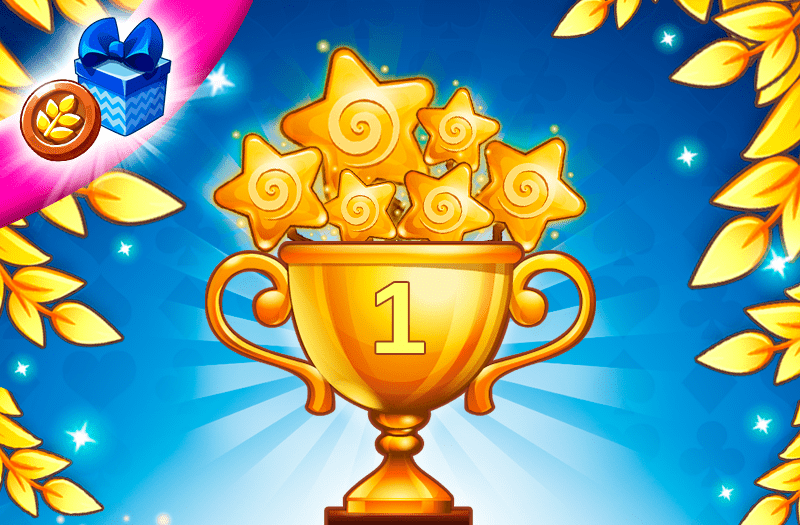 Welcome to the Solitaire Social world. Day by day, we build our community, play, and decide who is the best strategist and lucky man for today. So tournaments help us with the latter task. But we should notice that tournaments are not just about the leaderboard. Our players receive bonuses, reach new levels, open locations, and many other interesting activities during gaming.
Online solitaire tournaments are the best way to get maximum entertainment. Thee are three types of solitaire tournaments, including Standard, Knockout, and Tournaments Round the World. Keep reading the article to find out which differences and advantages they have and how to play them.
Standard Solitaire Tournaments
Solitaire is such a game that not only entertains you but also helps to train your intelligence. Also, thanks to the solitaire tournament games, you can find new friends and win bonuses. But first, we want to tell you about Standard Tournaments.
After the registration, you will be able to practice solitaire with other players worldwide or join a Standard Tournament. Each solitaire tournament is free for all players, consists of three games, and looks like this: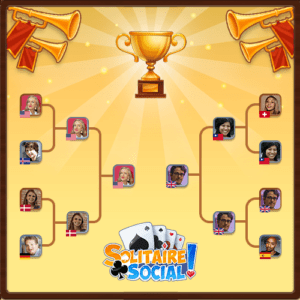 Each game may be finished in the following cases:
One player collected 4 kings first.
One player left the game (another player has 2 minutes to collect points; also, he or she can leave the game, and points will determine the winner).
And the more you play, the more options open for you:
spells;
undo last move;
hints;
magnet (automatically move cards to foundations);
freezer (freeze opponent's cards for 20 seconds), and others.
After you finish your first three tournaments, you will get access to Tournaments Round the World. And a Knockout Tournament is available to everyone who has played 10 tournaments.
Solitaire Tournaments Round the World
How about a little trip to Liverpool, San Francisco, or maybe you want to explore India? You can do it with Solitaire Social in a couple of minutes and for free.
As we mentioned before, this type of tournament will be available after you finish three tournaments.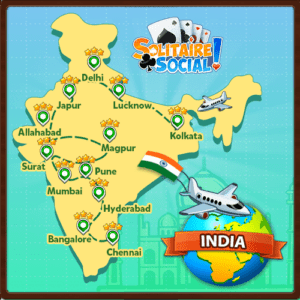 You can start your trip on West Coast (USA) or in Great Britain. Combining locations is also possible, so feel yourself free to travel around the USA and other countries at the same time.
Rules for Standard and Round the World tournaments are similar. Namely, if you win a round, you continue to play.
Please pay attention that you have to wait 8 minutes before the new game will be unlocked if you lose. Thus, you can use spells if you do not want to wait so long (just one star unlocks a new tournament game). By the way, you can open for yourself the Solitaire Shop, where you can buy spells, boosters, and other bonus features that will give even more pleasure to the gaming experience.
Knockout Solitaire Tournaments
Last but not least. Actually, the Knockout tournament is an event with tickets. So you will receive 1 free ticket once at the beginning of the Knockout tournament.
The rules are pretty familiar: 3 elimination tournaments, 4 opponents, and one participant is out after each round.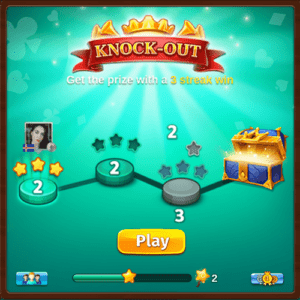 There are 3 ways to get a new ticket for the Knockout tournament:
requesting from friends (1 ticket from 1 friend once a day),
getting it as a reward for other gains during the event,
and buy it for 100 coins.
After you win three tournaments, you will receive the final prize, a chest of 3 awards.
The only difference between the website and Facebook solitaires is that you can play from your Facebook account without registering. So all features and options are the same: you can practice with other players or immediately join a tournament by opening solitaire online on Facebook.
Solitaire 3 Tournaments
The solitaire fans divide into two camps: with no cards behind and with 3 cards. The first ones have no idea which card will appear before the next step, and the other ones can make predictions and create strategies according to the three open cards before each move.
Solitaire 3 Social is our game where you can also join solitaire tournaments on Facebook. We do not offer a spider solitaire tournament, but you can join other our tournaments and enjoy them much.
Solitaire Tournament for Money
We hold free solitaire tournaments on our pages and do not offer money prizes. If you want to join such events, you can try some gambling platforms. But be careful because there are no competitions that offer you money prizes without depositing before.
So join free solitaire tournament games and show how you can manage with cards.