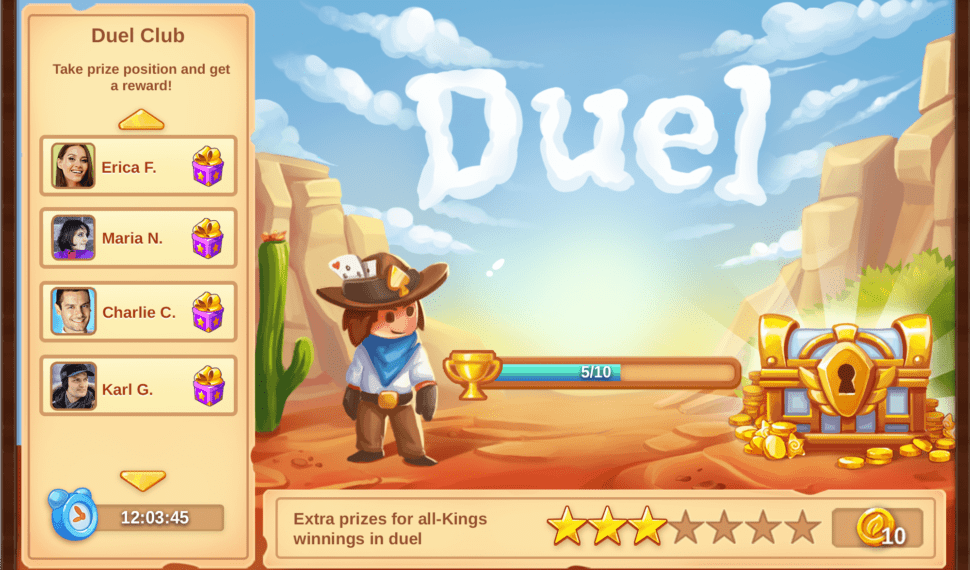 Good afternoon, Solitaire Social card game enthusiasts! We hope that you regularly play our free solitaire game and follow all the new upgrades we come out with. We won't ever stop developing our game, and we're happy to announce that we're offering something new! With this new development, you can now enjoy an additional game mode in Solitaire Social called Duel.
What Is Duel?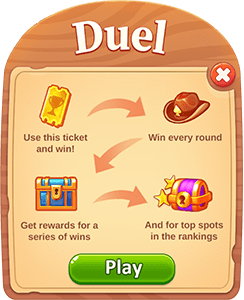 Duel is a very fast game played with another player. Governed by the same rules of Solitaire Social, each game has just one round where you will need to score more points than your opponent. Although you don't have to collect the entire deck, doing so will certainly provide you with extra points and bonuses. You can learn more about online solitaire game point rules here.
How Can I Start Playing Duel?
Duel mode is only available to Solitaire Social players who have already played at least ten tournaments. Additionally, you will need a special Ticket to start a Duel (the same Ticket in Solitaire Social can also be used to play our highly recommended tournament of Knockout, which you can read more about here). You can ask your friends for these Tickets or get them as in-game prizes.
To start a Duel, you will be required to spend one Ticket. If you win the Duel, you won't need a Ticket for the next game. But if you lose and run out of Tickets, you'll have to spend some Coins in order to get a Ticket.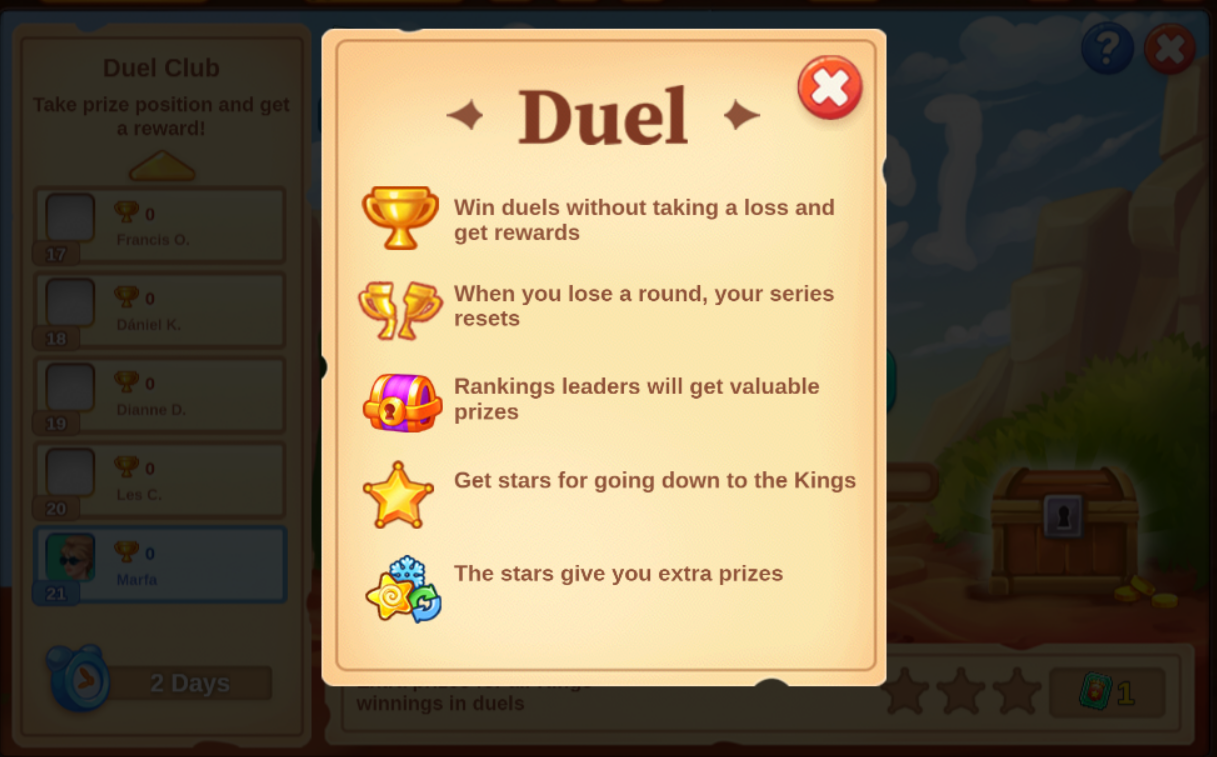 What Prizes Can Be Won in Duel Mode?
If you dare to Duel, you can be rewarded with a lot of nice prizes. Keep reading to learn more!
Earning Points During the Game
Winners of the Duel will have a prize Chest waiting for them. In order to open the Chest, you have to play and complete a series of Duels without losing. Each successive Chest requires a winnable series longer than the previous one, which means the prize inside will be more valuable, too! If you suddenly lose, you will have the opportunity to freeze your progress, but it will cost you a few Magic Wands.
How to Get Extra Points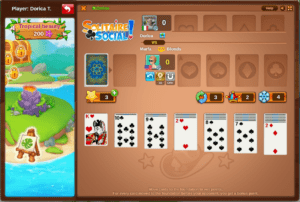 The true solitaire online game masters won't find it too hard to collect all Kings in each Duel. When that happens, a special reward will be waiting for you. Each time you get four Kings, you will also get a Star. If you are able to collect a certain number of Stars, you will be rewarded with a valuable prize and move on to the next stage of the challenge. Once you get there, you will need to collect even more stars to succeed, but the reward will be more significant!
Final Prizes
At the end of each Solitaire Social Duel event, you'll receive a prize based on your final place in the standings. The more victories you have, the higher your place, and, as a result, the greater your final reward. You can keep track of this by viewing the left side of the event window, which displays your current rating as well as how many Chests and Stars you've earned.
We sincerely hope you enjoy every part of Solitaire Social's Duel mode—especially winning prizes in the new challenge! But if you think this is the only surprise Solitaire Social has left, stay tuned! We're already preparing even newer game modes and events that you—and all fans of online card games—will love. Make sure to follow our news and keep playing Solitaire Social so you don't miss out!