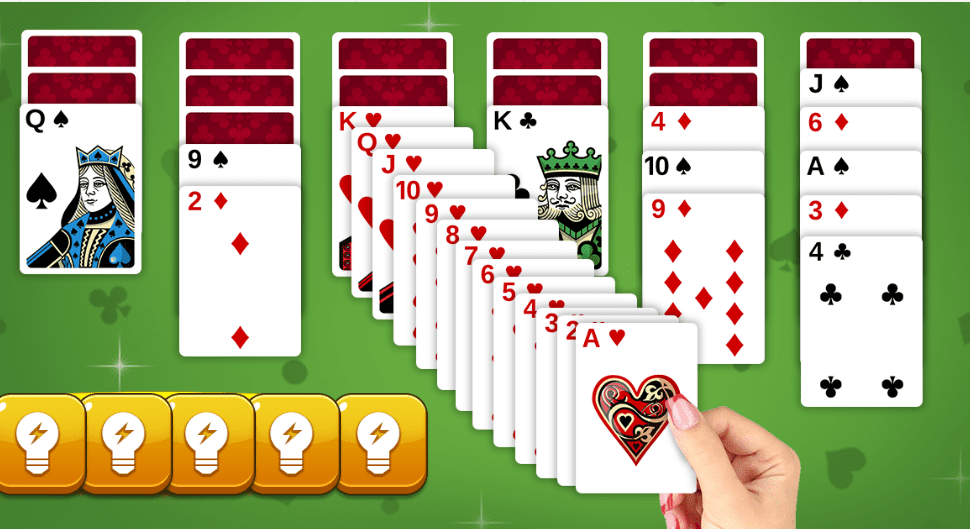 Have you ever gotten stuck while playing solitaire? The feeling of being unsure of what to do next, or if there even is a next step. You're not alone if you've ever felt that way while playing solitaire. It's a familiar feeling, and sometimes there isn't an answer to it. But not when there are hints in the game! The hint button will be highlighted if there is an opportunity to make a move. Enter Solitaire Social and you'll see.
Solitaire Social has a built-in hint feature. With the press of a button, you can get out of those tricky pickles while playing solitaire. It is an unbelievably handy feature that really helps make the game so much more fun! Come try out Solitaire Social and its hint feature!
The Hint feature is straightforward and even easier to learn how to use. All you need to do is press the hint button, which is the image featured right above this text.

Once you press the hint button, it will highlight an available legal move. It's a great feature to use if you believe that no more moves remain. It ensures that you haven't reached the end of the game without missing something.
Keep in mind that you have to use your hint sparingly. After all, you're only allotted a few hints. But, don't fret! There are plenty of ways to get more hints. Every day you can get some hints from your daily rewards when you log onto Solitaire Social. You can also get hints each day from your friends.
You need to try out Solitaire Social's hint feature for yourself. The hints are a straightforward system to use, and you'll get the hang of it quickly. You'll soon consider yourself a Solitaire expert in no time. Give a Solitaire Social a chance! You'll never want to go back to playing solitaire any other way.
Solitaire with Hints
Don't you want to become a solitaire master today? Join us, and you can! Everyone knows Solitaire; it is one of the most popular games in the world and one of the oldest! But for some, Solitaire might be a bit difficult. That's where Solitaire Social comes in. It's free online solitaire with hints.
There is no concrete information about the origin of this iconic card game. But some speculate that an imprisoned French Aristocrat invented it in the 17th century. Solitaire is likely hundreds of years old for those who don't know. A deck of playing cards used to be required to play, but now you can play free online solitaire.
Solitaire has been synonymous with computers since 1990 when it was included with Microsoft Windows 3.0. Since then, it has been bundled with every following Windows version. But now you don't even need Windows! You can play for free online.
Solitaire Social is the best place to play klondike solitaire with hints. Join us today, and you can learn all the tips and tricks to play the game that people have been playing for generations. You've come to the right place if you're interested in how the hint system works. Continue reading for all the information you need.