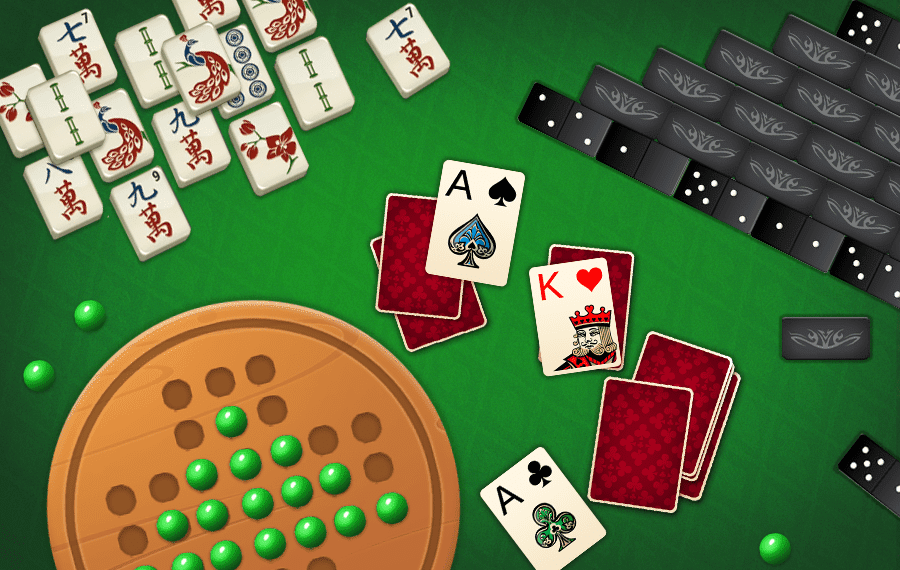 If you know what Solitaire is, you're probably wondering how it's possible to play it without cards. It is one of the most popular CARD games in the world. But you likely have no opinion if you don't know what Solitaire is. Whether you want to learn how to play Solitaire without cards or want to learn to play Solitaire in general, you've come to the right place. There are plenty of ways to play unusual versions of solitaire games. We'll show you every possible way to play Solitaire, with or without cards. You might even be able to play it with some stuff you have lying around the house.
What is Solitaire?
What is Solitaire? That's likely what you're asking yourself if you stumbled upon this article. Put simply, Solitaire is traditionally a card game that is played alone. However, as this article will explore, It doesn't actually need to be played with cards, although it is a bit unusual. Unusual Solitaire without cards can be played using Mahjong tiles, dominoes, or even pegs. You can even play Solitaire online if you don't have cards. If you want a great place to play solitaire without ads online, then look no further than Solitaire Social. You could be playing right now! When figuring out a way to play Solitaire without cards, the only limit is your imagination. But in order for you to play Solitaire without cards, you need to know what Solitaire is.
The origins of Solitaire aren't precisely known. However, it is believed to have been invented by a French Aristocrat. This French Aristocrat is said to have invented the game while imprisoned in the 17th century. While Solitaire has been popular since its inception, its true boon in popularity began in the late 20th with the advent of the personal computer. Solitaire on early computers just made sense. Those computers weren't very powerful, and Solitaire was an easy game that didn't take much power to run. The first example of Solitaire on a computer was released in 1987. It was a game called Solitaire Royale, created by Brad Fregger. On release, it was available commercially for both Microsoft and Macintosh computers. Following that, a version of Solitaire came pre-installed on Windows 3.0 PCs in 1990. The rest is history, with every computer and every operating system having a version of Solitaire.
Nowadays, your computer likely doesn't come with Solitaire preinstalled, but that's okay. If you want to play Solitaire on your computer, you can do it online. Check out Solitaire Social. It's the best place to play online Solitaire. We have plenty of features and game modes to keep you entertained and engaged for hours.
The Solitaire that most people know is actually a game called Klondike, Canfield, or Patience. The object of the game is to separate the 4 suits in cards and arrange them in order from aces to kings. While it may seem simple, it can take a while to master Klondike Solitaire. If you don't want to play Solitaire with cards, there are still some options for you. For the most part, Solitare is any game that you play alone. You can play Solitaire with Pegs, Dominos, and even Mahjong tiles.
Peg Solitaire
Peg Solitaire is also known as just known simply as Solitaire or Solo Noble. If you've ever been to a Cracker Barrel, a popular chain restaurant in America, chances are you've seen a variation of peg solitaire. They're on every table in the restaurant. That version of the game has a board in the shape of a triangle. Traditional Peg Solitaire has a board that is in the form of a cross or a plus sign. The game's main goal is to make moves with the pegs until one remains. Peg Solitare is the perfect choice if you don't want to learn how to play with cards.
The origin of Peg Solitare is a bit more concrete than the traditional card Solitaire. It can be traced all the way back to the year 1697 in France. Peg Solitaire can be seen in an engraving of the Princess of Soubise, Anne de Rohan-Chabot. This engraving was made by Claude Auguste Berry. A french magazine known as Mercure Galant featured a description of the game, along with its board, rules, and some sample problems, in August 1697.
Mahjong Solitaire
Mahjong Solitaire goes by many names, such as Shanghai Solitaire, Computerized Mahjong, Electronic Mahjong, Solitaire Mahjong, and sometimes just Mahjong. Computerized and Electronic Mahjong make sense because this game is more frequently played on a computer than on a tabletop.
Mahjong is played with a set of 144 Mahjong tiles or blocks. However, some people have also been known to play it with cards. Traditionally, Mahjong tiles are arranged in a 4-layer, pyramid-like pattern, with the markings on the tiles facing up. The goal of Mahjong is to make pairs using open tiles. A tile is said to be open if it can be moved either left or right without disturbing other tiles. A game of Mahjong is over once you have matched all the tiles or there are no more open pairs.
While Mahjong can seem intimidating at first. The sheer amount of tiles may be overwhelming to some. Mahjong is actually quite easy to learn, although it can be tough to master.
Domino Solitaire
When thinking of Dominos, most people think of setting up the tiles and then causing them to tip into one another. But, here's a secret: there are actually games you can play with those dominos! You can even play some of those games alone, such as Domino Solitare.
If you want to play Domino Solitare, it's simple. You just have to flip all your tiles face-down and then shuffle them up. Then you need to draw three tiles, flip them face-up and place them in a row. If the first and third tile shares a common number, remove the second. Draw another tile and put it on the right side of the row. If you keep doing it until you run out of tiles, you win!
If you don't have any of the necessary equipment to play the previous game, then don't worry. There is still a game for you. If you're reading this on your computer, you already have all you need. Head to SolitaireSocial game page before it's too late. Solitaire Social is the best place to play Solitaire online. All you need is a computer, and you could be having fun right now!