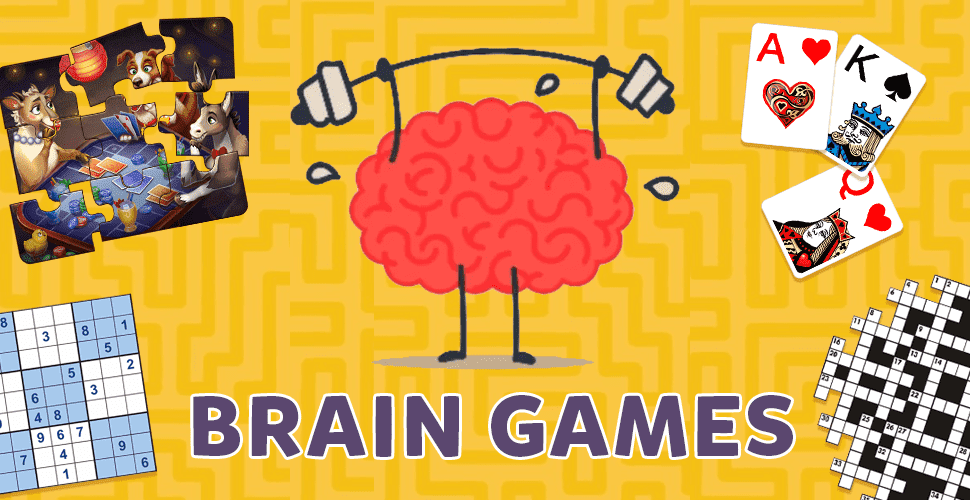 Did you know that you can enjoy games for brains online? These types of games will provide you with a super exciting gaming experience and help you sharpen your brain. There are different mind games that are recommended for different ages, but most of them can be enjoyed by everyone.
Every brain game works in a unique way and can help develop different skills. Without further ado, here are the most fun games for the brain that you can play online.
Memory Games
As you might have heard before, the best games for the mind are memory games. They aren't just a vital part of developing children, as they can also be used by grow-ups for multiple advantages.
Playing a memory-matching game can improve brain function, such as focus, concentration, and attention. These games for the brain will also give a person space for critical thinking and paying more attention to details. Visual recognition is widely improved by practising with memory games.
Brain gaming such as this is crucial for increasing your short-term memory by improving the function of this particular area of the brain.
The long-term memory of a person can be drastically improved by practising your short-term memory with these types of brainy online games.
In a memory game, you will be presented with classic cards or cards that feature a certain image, and the objective will be to match them. They will be revealed for a couple of seconds after which they will be turned face down. You will need to plan your moves as you go if you want to be more efficient.
The bigger the pile of cards the harder it will be for you to match all of them. It is advisable to start with a smaller pile and work your way up, so you don't confuse your brain right from the beginning.
Solitaire
Next up we have the free solitaire with no ads games, which are also one of the games for the brain that can be very beneficial.As you might know, ad free solitaire is played with cards where your duty is to arrange the cards in a systematic order.
The cards must be grouped into the featured suits and they must start from the highest card down to the lowest one. Many looked at solitaire as a pastime activity, without knowing that it can be very beneficial for their mental health and training their brain.
Arranging the cards in the perfect order improves your mental activity, as there are many possibilities to choose from in these games for your brains. You can also use them as stress relief when all you need is some relaxing time on your own.
The brain games such as these will definitely improve your memory just like the previous games. Improving your short-term memory is among the biggest benefits of solitaire.
By enjoying these brain fun games you can develop several mental skills such as efficient planning, focus, objective setting, coherent reasoning, and critical thinking abilities. And all of this is possible just by enjoying your free time and moving around some cards.
Additionally, this online game for brain can help you re-energize your brain power and at the same time loosen you up, as it is a less physically demanding game.
Wordle
Among the fun games for brain, you will also find the very popular word game Wordle. It is a word puzzle that can only be solved by using a series of clues that you eliminate on the way.
Wordle will keep your brain active and awake as you try to find the correct answer. There are Wordle games that ask for words that consist of 4, 5, or 6 letters, but the average word length is 5 letters. You will get 6 tries to correctly guess the word in this funny brain game, which makes things more exciting.
As you type in a word, the game will highlight a letter in either, green, yellow, or grey. Green means that the letter is in the right position, yellow represents that the letter is in the word but in the wrong position, and grey means that the letter isn't in the word.
Playing such brain funny games will keep your attention on a high level and improve your visual memory. Neuroscientists also state that enjoying a game of Wordle will activate your dopamine, which allows you to feel motivation, pleasure, and satisfaction.
During a game of Wordle, you are highly engaged in the game, which activates several parts of your brain and improves your problem-solving skills.
Sudoku
Last but not least, we have sudoku games, which are fun games for brains that are based on logic and combinatorics. In these number puzzles, your objective is to fill a 9×9 grid with digit numbers so that every 3×3 subgrid features numbers from 1 to 9.
You should also keep in mind that every number must feature only once in its vertical and horizontal lines, apart from the grids. The fewer numbers are included at the beginning of the game the harder it will be for you to complete it.
Sudoku will definitely help you improve your concentration, as you need to be very careful when placing each number. Your concentration will be dramatically improved after playing Sudoku games.
This game is also perfect for improving your memory. You will need to learn where the numbers can and cannot go and how to work them in such a way that you always remember this information.
Once you finish a few sudoku puzzles, this kind of activity will become very relaxing for your brain. Also, your speed will gradually improve as most online sudokus are times, which can sharpen your brain to solve similar problems quicker.
Where to play brain games for free
As you can read in this article, there are several highly interesting games for brains that can help you improve your brain activity and your skills. Playing brain games can significantly improve several brain functions including your short-term memory, focus, concentration, critical thinking, planning, and much more.
The majority of these games can be found on the Solitaire Social site, where you can enjoy the free games and improve your brain power. Visit the website now and start playing.