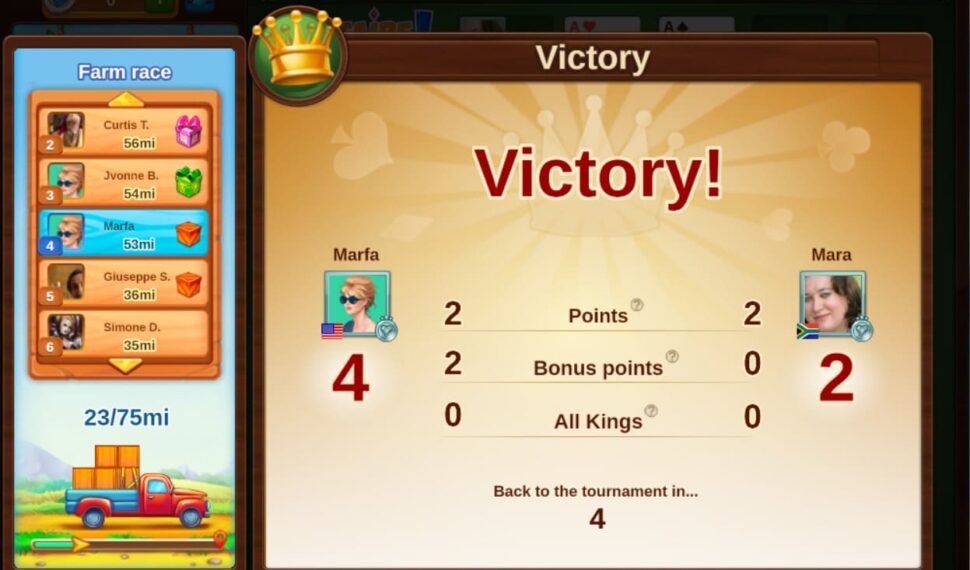 Free online solitaire games are gaining demand every year and we can provide many reasons for this. First of all, people don't like to waste time. This pause when you are waiting in the queue can easily be filled with online apps. People love to be surprised and admired. Anything unusual attracts our attention. People love to learn, and any game provides some kind of learning. At the same time, the skills that games develop may be needed in many cases, not only in gaming. People love to participate in competitions. They love stability – free no download solitaire has simple guidelines. We like that everything in this sphere is clear.
But what is the most important – people love excitement. Every victory in any game allows us to get an explosion of endorphins in the blood and this gives us positive emotions. All these reasons explain why there are developing so many free online solitaire games to play now.
There subsist thousands of card entertaiments designed specifically for phones. They differ in gameplay, simplicity, quantity of interesting additions and so on. In the following article we want to share with you our top of android solitaire.
It is a breakthrough among other similar free online card games without download. It represents an innovation in a huge field of solitaire software. Using this application, skilled gamers can engage in combat with other gamers who share their viewpoints. All new users of this software are welcomed with a brief instruction to help them understand the fundamentals of the game. Every user has a deck of cards, a number of which are uncovered and the majority of which are face down. The rules are straightforward.
Any round in Solitaire Social is a contest with some other player, which is its key feature. The computer chooses a competitor for every participant and initiates a match with you immediately. The one who plays solitaire fastest wins the party. 8 players compete in the tournament's opening round, climbing up the ladder from the quarterfinals to the title match. In the 2nd match, the victors combine, leaving only 2 players with an opportunity to take home the trophy. Special enhancers can alter the tournament's direction. This application has a lot of unique features, so those who are tired of conventional solitaire gonna enjoy it.
Spider Solitaire
If you on the contrary desire to be engaged in common free solitaire games to play online you should select this one. This app doesn't include exclusive additions, but it is an attic card game that all of us used to enjoy in those times when computer games were not as creative as now. Rules in this game are clear for the majority of card game lovers and the design of the application does not distract from the play. Everyone may try free solitaire no downloads in the default browser.
Mahjong
Some people call this app – Shanghai Solitaire. It is in the midst of the most well-known card software on the PlayMarket. This free solitaire download for Android has beautiful graphics, the virtual assistant will give you some tips that will improve your game. Don't mind if your phone is not the most up-to-date, because the aforementioned app is among the free solitaire games to play now which is suitable for devices that posses different screen sizes. Android OS is now used by the majority of users and the choice of devices is very large, that is why builders have provided the ability to play it on varied phone types. If you are attracted by previously mentioned kind of software, solitaire games free download for android mobile will be suitable for you.
Klondike-solitaire
If you do not have enough space on your Android device try to play Klondike-solitaire. It has traditional rules and is launched in any browser. You need to allow cookies before the beginning of the match and then you will enjoy playing your favorite game. Apps design is simple, cards are big enough so people of all ages are able to play solitaire free without downloading. Additionally, the web adaptation is frequently chosen because there is no need to find a special place to play this game. Simply switch on the computer or smartphone and launch the application to have fun.
People enjoy participating in board game. Though sometimes board activities do not bring so much joy, and do not awaken the competitive spirit in the players. By learning the rules of card games lovers of excitement find something more interesting for themselves. Solitaire is a straightforward game that will make your day happier. Everyone is welcome to attempt themselves in Android online games because the guidelines are transparent to learn.