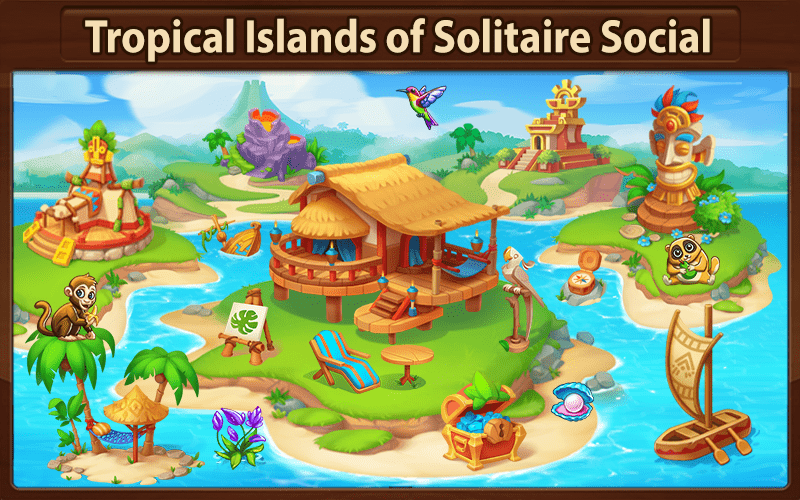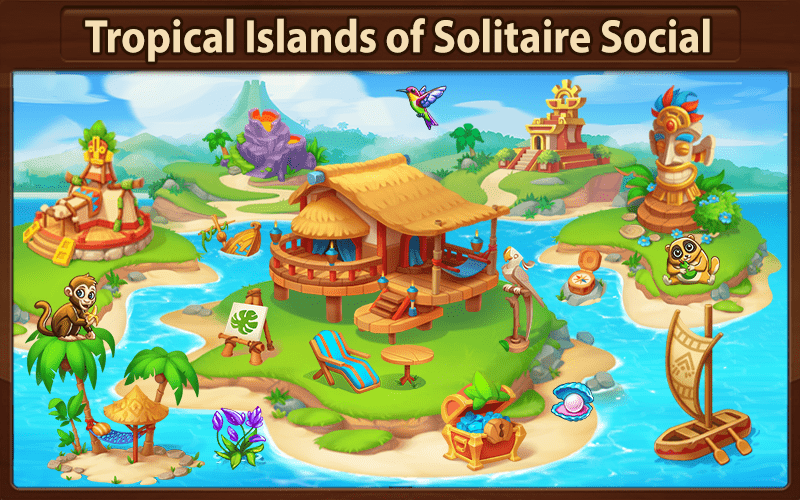 Summer has arrived and our free solitaire game offers you an exciting event dedicated to hot days and dreams of tropical islands! Our new game, Tropical Adventures, offers you a new form of entertainment within our Solitaire Social world, ready to take you through the whole summer! This new game lets you adventure in a brand-new location, called Tropical Islands.
Adventuring Through Tropical Islands
Fans of the original Solitaire Social will remember that you not only competed with players from all over the world, but you also developed your own Garden, followed by Bayside and Farm. Well, now we're ready to welcome you to a brand-new location – Tropical Islands! Right from the start, you'll find access to the very first island, with your new task to be to unlock all eight islands in the game.
So, which Tropical Islands can players get to during the new Solitaire Social venture?
Palm Island (opens instantly)
Bungalow Island
Volcano Island
Totem Island
Shaman Island
Island statue
Fisherman Island
Waterfall Island
Each island has an object that players can upgrade by spending special tropical coins found in the game.
But, you'll also receive your first 300 tropical coins as soon as you start playing.
Pretty cool, huh?
Just like in Garden, you'll get bonuses for improving objects, like spells, decorations and more, which increase your Tropical Beauty score.
To learn how to do this in Garden, continue reading on!
And of course, as you play the game you'll receive special decorations that you can place on your Tropical Islands to increase your Tropical Beauty score.
How can I travel from island to island?
To get to the next island in Tropical Adventures in Solitaire Social, you must complete a side game. For example, on Palm Island, there is a jigsaw puzzle consisting of 20 pieces. Your task starts by finding and earning the 20 pieces. You can earn and find these by completing daily tasks and winning tournaments within the game. In addition, one important resource that you need in order to advance through Tropical Adventures in Solitaire Social is to earn fruits!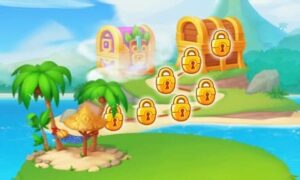 You earn fruits when you not only win a tournament but also when you play all 4 kings. You'll find the fruits hiding just beneath the Kings.
While playing, at the Top Panel and you'll see a turtle swimming towards the chests. Use the fruits to speed it up. Each chest has great prizes, like Magic Wands, spells, and jigsaw pieces. But jigsaws aren't the only puzzle you'll encoun
ter in Tropical Adventures in Solitaire Social. Players also need to collect compasses to win board games, earn paints to color the pictures, and get shovels to unearth additional prizes.
For every puzzle you solve, you'll get a key. Collect all eight keys and you'll unlock the Tropical chest, which is one of the top prizes in Solitaire Social's Tropical Adventures.
Why else do you need fruits?
In addition to the large chest, Tropical Adventures Event in Solitaire Social has a total fruit score, which you can see in the upper left corner of the game screen.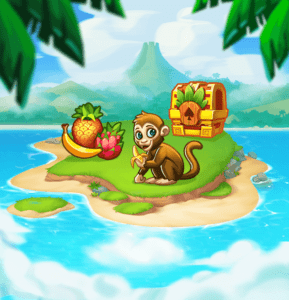 As mentioned previously, you get fruit for playing a full deck – four Kings – in each game. If you lose a tournament in Solitaire Social, one point is deducted from your fruit score.
On the other hand, by the end of the Tropical Adventures Event, if you're high enough in the overall fruit score, you'll receive a well-deserved prize:
1st place – 100 Magic wands
2nd place – 50 Magic wands
3rd place – 30 Magic wands
4th-10th place – 200 Magic wands
11-100th place – 10 Magic wands
Still needing to learn about the Magic wands? Continue reading to find out how they can help!
Is there anything I can do to help me get faster in the Tropical Adventures Event?
Players can rest assured that they can achieve great results in Tropical Adventures Event by playing for free. But if you're looking to make things happen faster, you have the option of buying the Summer Pass. Curious about what that gives you? Every step of the Tropical Adventures Event in Solitaire Social will award you additional prizes.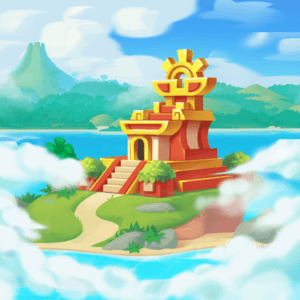 You will also gradually receive special decorations for your Tropical islands, which will further enhance your Tropical Beauty. At the end of the Tropical Adventure series you will receive another chest! This chest will offer you the Summer Pass, which costs just $9.99 USD.
As an alternative option, you can also purchase access to the City of Gold, a mysterious structure within the Tropical Islands.
The price of the City of Gold is 19.99 USD. As with other structures in Tropical Adventures, the City of Gold can be developed for tropical coins and you can earn even more incredible rewards!
While the Tropical Adventures game is going on, don't forget to continue to play Solitaire Social, and collect coins, fruits, and puzzle pieces!
Keep boredom at bay this summer, even if you're sitting behind an office chair and the tropics are left somewhere very far away.
We're giving you a trip to the Tropical Islands, and we really hope you'll enjoy venturing into new lands!