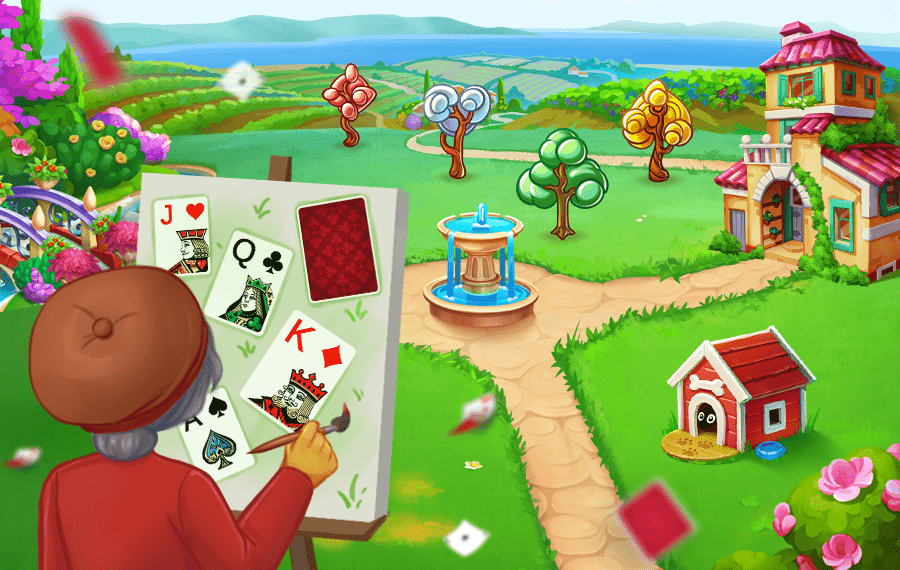 Hello, dear readers, who are interested in solitaire games, and everything related to them. We have already told you the story of the solitaire and explained how it appeared in history. We told you where it was mentioned, for example, films and books. We have not forgotten about another kind of art. So now you can find a guide to the world of painting's solitaire!
Georges Braque "La Patience", 1942 (Goulandris Collection, Lausanne, Switzerland)
The renowned artwork by Georges Braque, one of the creators of such a prominent artistic trend as cubism, attracts our curiosity just by its name. A bored or discouraged woman casually spreads cards on the table. A chessboard, a bottle of wine, and a sense of helplessness surround you. It's interesting to note that Georges Braque created this painting in Paris, which was occupied by German in 1942. It is from here that the picture's viscous and gloomy tone appears.
Felix Vallotton "La réussite", 1912 (Kunsthaus Zurich)
Félix Vallotton, a Swiss artist, became well-known in Europe in the late nineteenth century for his magnificent woodcuts. However, towards the turn of the twentieth century, Félix Vallotton's creative interests turned toward realism painting. He made several naked paintings in particular. In one of his pieces, "La réussite", a naked woman is shown playing solitaire. Only the model, drapery, pillow, and four cards are included.
Raphael Soyer "Solitaire", 1934 (Private collection)
Raphael Soyer, who was born in the Russian Empire, immigrated to the United States with his family in 1912 and finally lived in the Bronx. The artist finally rose to prominence as a master of social realism, representing scenes from regular people's life. In the image "Solitaire," we observe a sleeping man and female playing solitaire on the bed. We don't know what's going on in the photo, but we definitely feel understatement and worry. It's no surprise that this canvas was created during the Great Depression.
Frank W. Benson "Girl Playing Solitaire", 1909 (Worcester Art Museum)
It is a painting by Frank Weston Benson, who was a famous American impressionist. It shows the female who is playing solitaire in a considerably more luxurious place than we have seen before in other pictures. There is the Windsor chair, a mahogany table, expensive wallpaper, and accessories. All these are telling about that Gilded Age.
John Singer Sargent "Portrait of Lady Eden", 1906 (Philadelphia Museum of Art)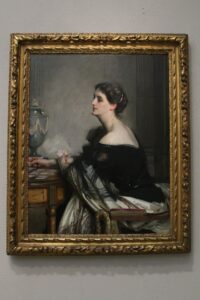 A similar picture we can find in the piece of work of another American impressionist, John Singer Sargent. But this time he even mentions the lady in his painting's name. It's strange that John Singer Sargent, who is an American, was born in Florence and spent most of his life in Europe. He is regarded as one of the artists who devoted their talents to the Belle Époque, the European luxury period preceding the beginning of World War I.
Jehan Georges Vibert "The Three Patiences" (Private collection)
Let's go to France and see the painting "The Three Patiences" by Jehan Georges Vibert. The canvas's main figure is a cardinal. The clergy was not allowed to gamble at the time, so they played the cards differently. They passed the time by playing solitaire. We recall that the word "solitaire" originates from the concept of "patience" and now we understand why Jehan Georges Vibert called his picture that way. Look not only at the cardinal but also at the maid and the dozing dog by the fireplace.
Pablo Picasso "Vive la France" 1914-1915
It is impossible not to mention Pablo Picasso while talking about the world of fine art. He integrated into his painting "Vive la France" all of his experiences connected with the beginning of the First World War and the participation of France and Spain in it. We see a still life (very Picasso style). Fruit, a bottle of rum, and unclear images are the artist's visualizations of the historical events that greatly influenced him. The cards are also visible on the table. But it is hard to understand if it is for a game or solitaire.
David Hockney "King of Hearts" 1979
While talking about playing cards in the paintings of great painters, we should also mention relatively modern art. In this case, it is about the work of David Hockney, the artist of the second half of the 20th century. In 1979, he showed to the public the canvas King of Hearts. It is both a portrait and a playing card. It has a highly unique style that shows one of the ways that contemporary artists take.
Salvador Dali "Playing Cards" 1967
And, since we're talking about how current artists use card images for inspiration, in conclusion, we'd like to tell how a great artist made a deck.
Salvador Dali debuted his own deck of playing cards in 1967. The deck contained 17 cards: jacks, queens, kings, and aces of 4 suits in cards, as well as a joker The amazing artist has created a true piece of art, 17 breathtaking fantasy cards that you can look at endlessly!
This is obviously a very short list of all the paintings that contain playing cards. Share your favorite card art with us in the comments if you have any! By the way, don't forget about Solitaire Social