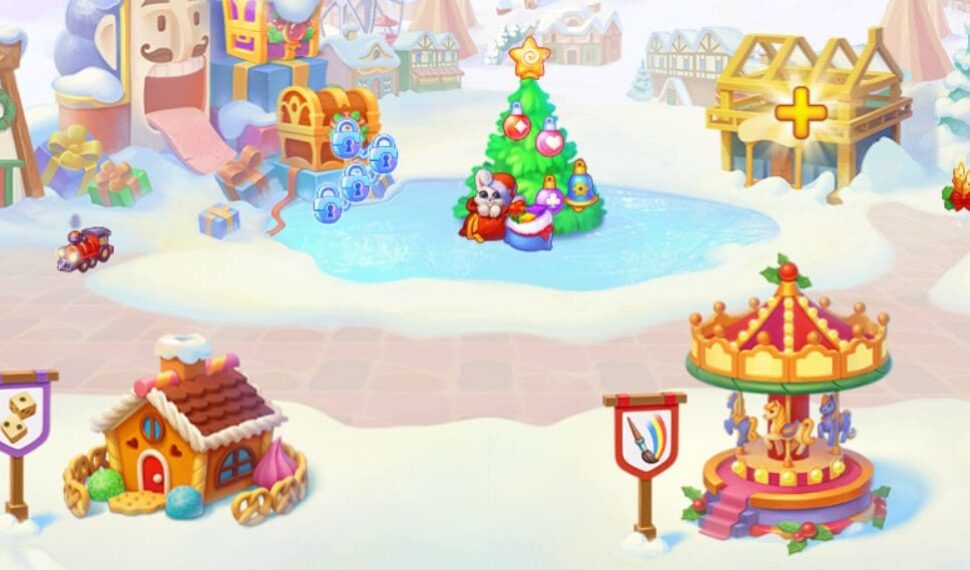 With Christmas right around the corner, it's time to join our new and exciting Christmas Adventure! The cold weather may be bringing some of us down, but don't worry. We've got you covered! From the comfort of your own home, you can enjoy the new Christmas Adventure at Solitaire Social.
This adventure game, created by Solitaire Social will keep you occupied during the cold winter period especially around Christmas, with the potential for great rewards around every corner. It's the perfect spare time leisure activity if you are a devoted Solitaire Social player.
What Exactly Happens In Our Christmas Adventure?
We invite you to take part in a chilly, but decorated wintery fair, bustling with a Christmas atmosphere. Players will collect baubles located under each Solitaire King. Do keep in mind that this is only available during the special event, and will be directly used to build buildings in the magical fair.
There are tons of animals who like to call the fair their home, and your job is to support the animals. Furthermore, the town is filled with a plethora of different buildings which can be built and improved over time as you keep playing the game.
The buildings can be built using the baubles you find during gameplay, and of course, as is your right, you get a reward each time you upgrade a building to the next level. Also, the more you help the animals that inhabit the magical forest, the bigger the reward for you as a game master.
How Do You Get Baubles?
Just like in many other games, the Christmas Adventure by Social Solitaire is driven by an in-game currency. In this case, for the duration of the Christmas event, the baubles you find under each kind will serve as the temporary in-game currency. Baubles are found under the Kings, and when you manage to with a game with a full duck, the number of baubles won is increased.
Do keep in mind, however, that for each game lost you lose baubles as well. For each lost game, you lose a bauble as well. The best way to make sure that you don't lose any baubles is to keep playing the game and improve your skill. This is a skill-based game, so your skill will have an impact on the outcome of your gameplay.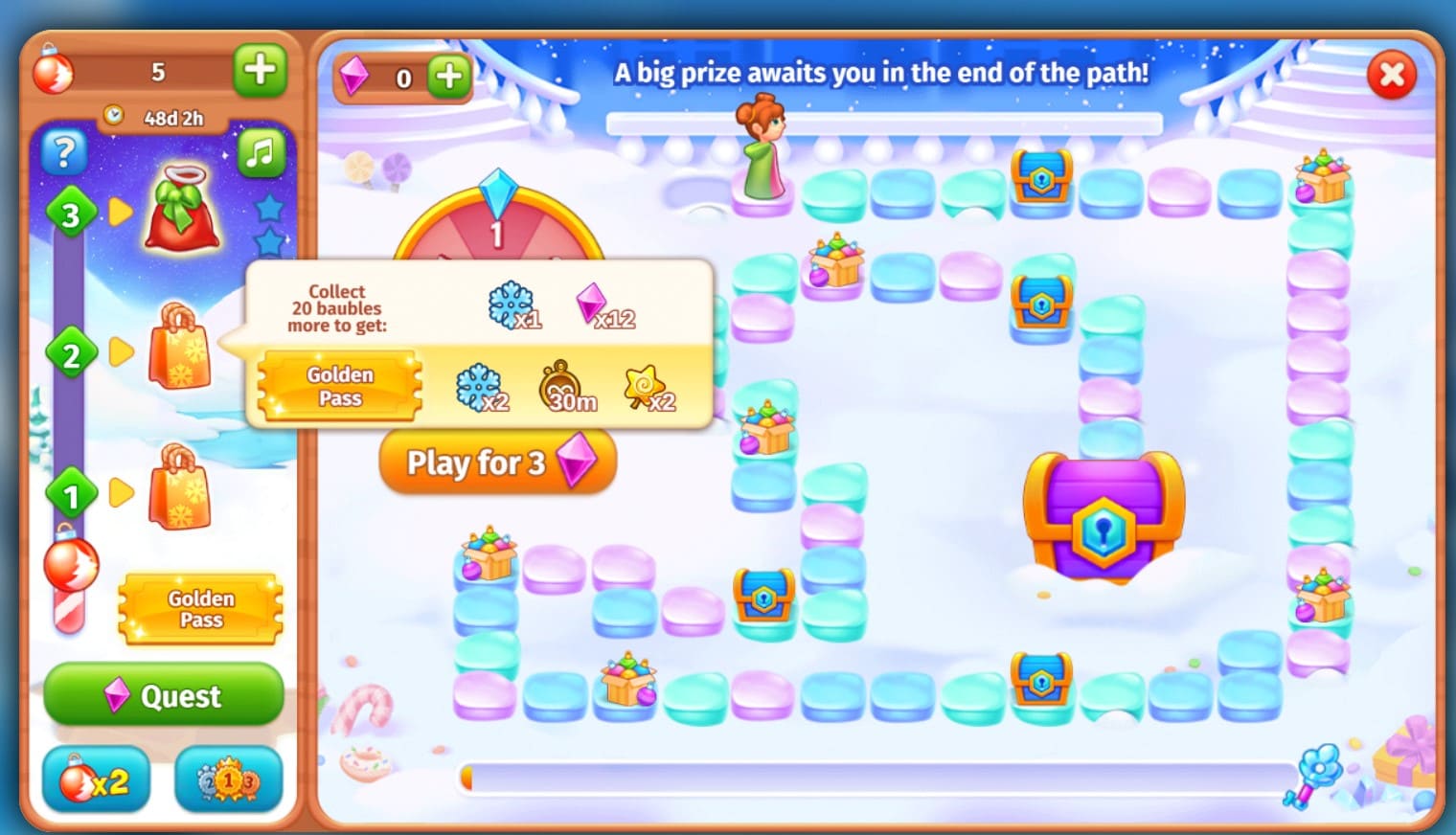 Can Baubles Be Used For Different Things?
All players who dive deep into Solitaire Social will be competing for different gifts that can be used for the duration of this special Christmas Event. Players that have a bigger amount of collected baubles during their gameplay will get the special chance to enter the so-called Christmas Rating. The ones who performed among the best will be rewarded special rewards.
What Other Things Are There To Do In The Christmas Adventure?
If you keep playing the Christmas Adventure in Solitaire Social you will find that there is more to do, than just find and collect baubles. As we already mentioned before the collected baubles can be used to upgrade buildings at the fair, and for each upgrade you are rewarded a specific number of coins which you can later use.
You can also get special items when you complete certain tasks. The rewards you can win when completing tasks are colouring-in, different quests which give out more rewards, and random gifts that will make you fall in love with Solitaire Social even more.
When you are in a hurry and want to complete missions faster, you will need to face off down to the kings without losing, which will allow you to complete your missions faster. However, there are dozens of tasks to be completed at the Christmas Fair. If you manage to complete all given tasks, you will have the chance to open a huge Christmas chest, hiding a secret reward.
If that makes the game sound more exciting, don't give up on your tasks and keep completing them. Sooner or later, you may be lucky enough to have a go at the Christmas chest. To be Part of the amazing Christmas adventure, simply visit our website!
Solitaire Social is an online PvP game where you compete against other players that are in love with the world of Solitaire. It's a very simple yet fun game that offers hours upon hours of fun gameplay. You will find cards stacked according to seniority and suit, some of which are open, and some are face down.
The game is extremely similar to the old Windows Solitaire games, which we believe many of us are familiar with. But some things make Solitaire Social different from the old version of Solitaire we are used to.
Unlike classic Solitaire, Solitaire Social stacks you against another player. The game has an algorithm which automatically faces you off against another player that is also currently searching for a game on the platform.
The player who manages to solitaire first is the winner of the game. For each extra card you send to the stack before your opponent, you will be awarded extra points. Furthermore, this gives the base game another valuable resource – time, making the game even more interesting, and the stakes higher.
Solitaire Social is also a tournament where eight players face off. Also, the game is made for players to compete in a grid from one-fourth to a final, mimicking a real-life tournament as a sport played on a field. This makes the game more fun for all players.
A player who manages to best other players three times is the winner of the tournament.