Solitaire Social has an internal store, where you can buy a lot of useful things to play Solitaire in the winning mode. Among Shop items are spells, coins, and packages that will help you climb faster to the very top of Solitaire Social.
How does the Solitaire Social shop work?
The Solitaire shop icon is located to the right of the Magic counter on the Top panel. There are three sections inside: Bundles, Coins and Magic.
Bundles
These are our store's best deals: you buy a bundle of useful items at once – Magic, Coins, and Spells.
What kind of bundles does the Solitaire shop offer?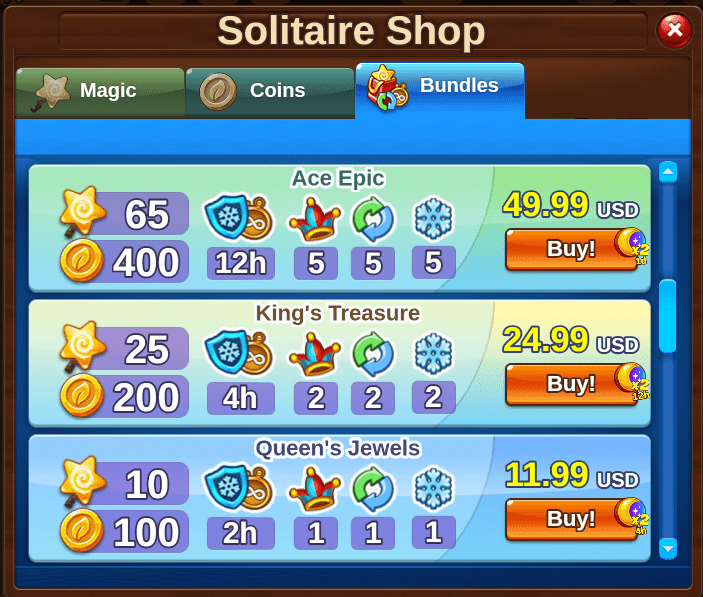 Tidbit (2.49 USD)
1 Magic
25 Coins
Freeze Shield for 30 minutes
Time Bubble for 30 minutes
Jack's Stash (5.99 USD)
4 Magic
50 Coins
Freeze Shield for 1 hour
Time Bubble for 1 hour
1 Freezer
Queen's Jewels (11.99 USD)
10 Magic
100 Coins
Freeze Shield for 2 hours
Time Bubble for 2 hours
1 Joker
1 Shuffles
1 Freezer
King's Treasures (24.99 USD)
25 Magic
200 Coins
Freeze Shield for 4 hours
Time Bubble for 4 hours
2 Jokers
2 Shuffles
2 Freezers
Ace Epic (49.99 USD)
65 Magic
400 Coins
Freeze Shield 12 hours
Time Bubble 12 hours
5 Jokers
5 Shuffles
5 Freezers
Ultimate bundle (99.99 USD)
160 Magic
800 Coins
Freeze Shield
Time Bubble
12 Jokers
12 Shuffles
12 Freezers
Magic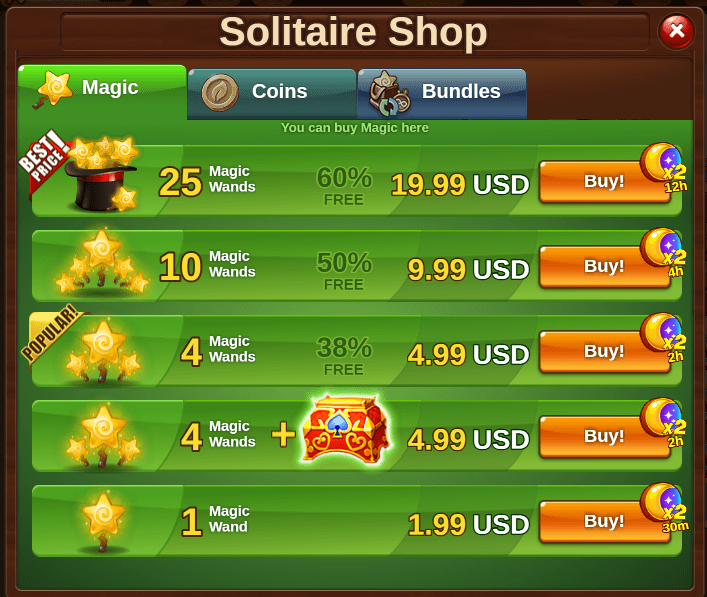 Magic is the most popular tool in the Solitaire Social game. You can use it to draw a card from a locked deck during a tournament and buy Magical Decor at the Garden Shop. In addition, you can spend Magic on Spells and your achievements in the game if you suddenly lose.
Here are the Magic offers in the Solitaire shop:
1 Magic Wand for 1.99 USD)
4 Magic Wands for 4.99 USD
4 Magic Wands with a surprize in a chest for 4.99 USD
10 Magic Wands for 9.99 USD
25 Magic Wands for 19.99 USD
Coins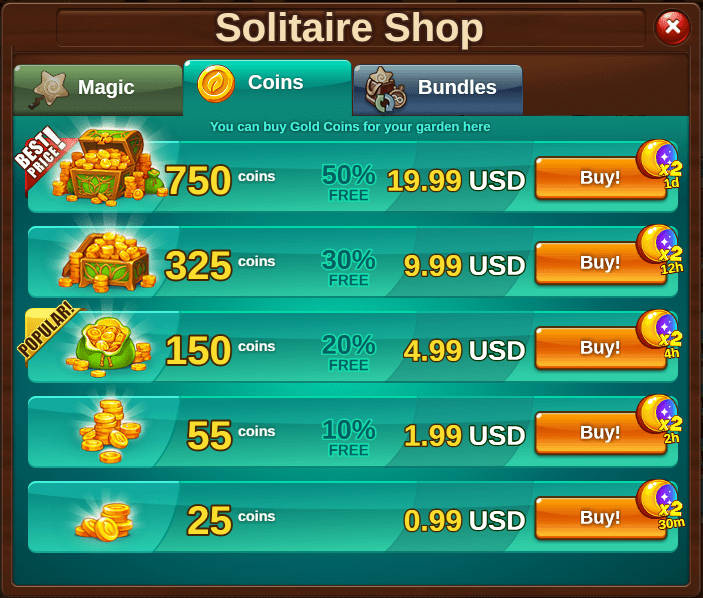 In this section, as you can easily guess, you can buy Сoins. Coins are needed to improve your Garden, Bayside and Farm. Coins can be used to improve these beautiful locations, and you can also buy Standard Decor from the Garden store.
Sets of Coins in the Solitaire Social shop:
25 Coins for 1.99 USD
65 Coins for 4.99 USD
150 Coins for 9.99 USD
325 Coins for 19.99 USD
750 Coins for 39.99 USD
It is necessary to buy something at the Solitaire Shop?
You can play The Solitaire Social game without buying anything in our store. All tournaments are free and do not require any purchases.
Of course, the Сoins, Magic, and Spells might help you to get to the top of the rankings much faster. The gameplay will be easier and more comfortable, but if you decide not to spend a dime on Solitaire Social, you can still enjoy the game, have a great time, and become a true Solitaire professional!
Play Solitaire Social daily, have fun, make friends, and practice your skills!